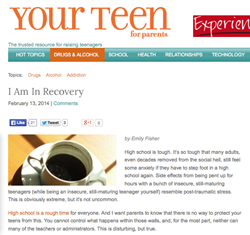 Studies and trends are troubling, but we are working to equip parents so they can help their teens make good decisions.
Beachwood, Ohio (PRWEB) February 28, 2014
For parents of teenagers, recent studies and statistics cast an alarming shadow over the teenage years when it comes to the possible dangers adolescents can encounter via drugs and alcohol.
A new series of articles on teenage drinking from Your Teen Magazine for Parents points out that there's a big gap in perception between the percentage of parents who believe their teen child is drinking and the actual percentage of teens that are in fact drinking. And what parents don't know can in fact harm their children.
"This is a huge issue for parents and families who want to take steps to prevent their teens from engaging in early experimentation," Your Teen Editor-in-Chief/Publisher Susan Borison says. "The studies and trends are troubling, but we are working to equip parents so they can help their teens make good decisions."
As one article reports on a 2011 University of Michigan poll, "only 10 percent of parents of teens believe that their teen used alcohol or marijuana in the last year. Teens themselves, though, report a different story. Twenty-eight percent of 10th graders reported using marijuana and 52 percent of 10th graders reported drinking alcohol, according to the University of Michigan study, Monitoring the Future."
In fact, 52% of 10th graders reported consuming alcohol, and many educators would say that the percentage could be higher given the number of teens who simply won't admit to underage drinking - even during an anonymous survey. Other alarming statistics and facts reported in this teen drinking series include:

The Centers for Disease Control and Prevention report that alcohol is the most commonly used and abused drug among young people in the U.S.
12 to 20-year-olds consume 11% of all alcohol consumed in America.
Teenagers tend to imbibe through bingeing multiple drinks in a short period of time for maximum effect and to avoid getting caught.
Teens who drink are five times likelier to abuse alcohol later in life.
Teenagers who drink are more likely to have problems in school, be involved in alcohol-related car crashes, participate in unwanted, unplanned & unprotected sex, and also abuse other drugs.
Emily Fisher offers a personal account in "I Am In Recovery": http://yourteenmag.com/2014/02/teenage-drinking-recovery/
"I want to say to parents, 'Be that person. Be that protector, that guardian that you want to be, in the most innate way you know how. Connect with your children. Communicate with them.' Do not be afraid to talk about the uncomfortable situations because the reality is that life can be very uncomfortable, and that is okay. That is what makes life great – this juxtaposition of light in darkness, of finding strength in weakness, of the fear that is so present in love. Be for your teen what you hope they could eventually be for themselves: an honest, questioning individual, just trying to make sense of this incredible gift of life that we've all been given."
In one of the articles – "Underage Drinking? Your Teen is Listening (And Watching)" – Dr. Joseph Shrand, M.D., of Harvard Medical School explains why alcohol consumption for teens can be so hazardous.
"Consuming alcohol at such a vulnerable time can permanently alter the brain's circuitry... In adolescents, the amygdala (the part of the brain that's responsible for impulses, feelings, memories, pleasure and addiction) is more in control than the prefrontal cortex (the part that's responsible for thinking, problem solving and anticipating the consequences of decisions. With a brain like that, it makes perfect sense that a teen would say, 'Wow, I think I'll just drink because feeling drunk feels great.'"
Learn more:
http://yourteenmag.com/2013/11/teens-underage-drinking
"Teens, Drugs and Alcohol: Do As I Say, Not As I Did" includes statistics about teen drug and alcohol use, advice on how to discuss the topics with teenagers and tips about dealing with teens and parties.
For example, one expert encourages parents and teens to establish a code word or phrase that signals, "Things are not okay here." This enables a teen who finds themselves in an uncomfortable situation to call or text without the embarrassment of their peers knowing.
"One family I know used the name of the family dog. When their teen girls texted, 'I'm really worried about Lucky,' that was the cue to come pick them up," says Ellen Rome, MD, MPH, head of the Center for Adolescent Medicine at Cleveland Clinic Children's Hospital.
Learn more:
http://yourteenmag.com/2013/10/teens-experimenting-drugs-alcohol
About Your Teen Magazine:
Your Teen addresses the challenges inherent in raising teens and helps parents of teens to continue the journey toward the goal of successful parent. In the magazine format, parents can post questions, offer personal tactics and hear the different perspectives of professionals, other parents and teenagers on relevant topics. Your Teen hopes to ease the worry.
Your Teen is available at http://www.yourteenmag.com/subscribe and in select Barnes & Noble Bookstores.