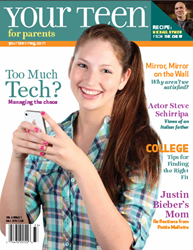 Your Teen will leave parents feeling better equipped to navigate key issues that teens are facing.
Beachwood, OH (PRWEB) August 31, 2013
In this issue of Your Teen Magazine for Parents, parents can find advice and information on a variety of topics related to their teens.
This edition's featured package includes three articles on technology and teenagers. Your Teen uses input from experts and teens to discuss how to keep technology from getting out of hand.
Download the magazine here:
http://yourteenmag.com/your-teen-fall-2013-issue
The issue also includes:

Cooking tips for healthy food even with picky eaters
Insights from Pattie Mallette on raising her teen, Justin Bieber
Tips for how to help your teen cope with body image struggles
Advice on how to find the right college
"We are always trying to provide parents with tools and strategies that will help them raise healthy teens," Editor-in-Chief/Publisher Susan Borison says. "Our Fall issue of Your Teen will leave parents feeling better equipped to navigate key issues that teens are facing."
Here are some excerpts:
"Parenting a Rock Star" (Justin Bieber's mom, Pattie Mallette):
"Reflecting back, Mallette wonders whether her teenage years would have been less rocky if someone had recognized her struggles. 'It is so important for parents to listen to what teenagers are saying and not saying,' Mallette notes. 'I was filled with so much pain and shame from so many years of abuse. Never having dealt with it—or talked about it—I was self-medicating. If someone could have seen that, it would have been very helpful.'"
"Mirror, Mirror On the Wall":
"I have spent my 49 years learning to tell myself that I am great each day, even as I might wish for a changed part of my body. I, along with many females I know, have wasted countless time worrying about our bodies instead of accepting and loving them as they are. I know what it's like. And so, I need to help my daughters navigate the path that leads to them loving themselves and their bodies each and every day."
From the article "Technology":
"So, how do we handle technology when it comes to our teenagers? Well, it starts by bringing it under your parenting umbrella. In other words, technology is a privilege you're handing your teenager—like driving or going out with friends—and it's your job to help them use it appropriately, even when it's for enjoyment."
About Your Teen Magazine:
http://yourteenmag.com
Your Teen addresses the challenges inherent in raising teens and helps parents of teens to continue the journey toward the goal of successful parenting. In the magazine format, parents can pose questions, offer personal tactics and hear the different perspectives of professionals, other parents, and teenagers on relevant topics. Your Teen hopes to ease the worry.
Your Teen is available in select Barnes & Noble. Subscriptions can be ordered at http://yourteenmag.com/subscribe.