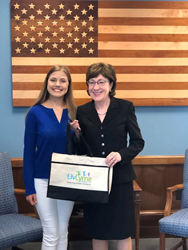 This happened because of everyone working together. We must find a cure.
DENVER (PRWEB) December 21, 2019
All the letter-writing, phone calls, meetings with members of Congress and the federal government are paying off for 15 year old LivLyme Foundation founder Olivia Goodreau. The Kay Hagan Tick Act is now law, marking a historic moment for people who suffer from Lyme and other tick-borne diseases. The legislation adds $150 million in new federal funding to fight tick-borne illnesses through 2029.
"Last May, I met with Senator Susan Collins (R-ME). The Senator asked if I would help her pass this TICK Act," said Olivia, who also conceived the TickTracker app at age 13. "This bill almost died a few times. People said we would never get it through, that it would take years. I want to thank the Lyme advocates who kept fighting, Senators Collins and Tina Smith (D-MN) and their staffs, the senators who co-sponsored the bill, and all the Lyme patients who contacted their representatives. This happened because of everyone working together. We must find a cure."
Olivia's life was forever changed at age 6 when she was bitten by a Lyme-infected tick the summer after first grade. She founded The LivLyme Foundation when she was 12. Olivia collaborated with the Center for Lyme Action, Midcoast Lyme Disease Support & Education and a small number of other Lyme groups to fight for passage of the Act. More than 150 organizations signed on to support the legislation.
The Kay Hagan Tick Act unites the effort to confront the alarming public health threat posed by Lyme and other tick-borne diseases, which have risen exponentially from approximately 30,000 cases in 2003 to an estimated 450,000 last year. The bipartisan effort signals a monumental shift in how tick-borne disease is addressed in the U.S. and brings hope to tens of thousands of Americans who've struggled for years to receive appropriate diagnosis and treatment.
Senators Collins and Smith renamed the bill in honor of former Senator Kay Hagan (D-NC), who passed away on October 28th, 2019, due to complications from the tick-borne disease known as the Powassan virus.
"As the mother of a child who suffers from Lyme and 6 co-infections for more than 9 years, I am so grateful to Senators Collins and Smith, their staffs, and the co-sponsors of the Kay Hagan Tick Act," said Holiday Goodreau, Olivia's mom, Executive Director of The LivLyme Foundation and CEO of TickTracker. "This groundbreaking legislation will help patients, scientists and future generations to come."
Using a three-pronged approach, the Tick Act:
1. Requires the Department of Health and Human Services (HHS) to develop a National Strategy. This helps expand research, improve testing and treatment, and coordinate common efforts with DOD, USDA, EPA, the VA, and the Departments of Interior and Homeland Security.
2. Reauthorizes Regional Centers of Excellence in Vector-Borne Disease for five years at $10 million per year. Funding for these centers, which was allotted in 2017, expires in 2021. These Centers have led the scientific response against tick-borne diseases, which now make up 75 percent of vector-borne diseases in the U.S. There are five centers located at universities in New York, California, Florida, Texas, and Wisconsin.
3. Authorizes Centers for Disease Control (CDC) grants at $20 million per year that will be awarded to State Health Departments to improve data collection and analysis, support early detection and diagnosis, improve treatment, and raise awareness. These awards will help states build a public health infrastructure for Lyme and other tick and vector-borne diseases and amplify their initiatives through public-private partnerships.
The LivLyme Foundation encourages the public to download the free TickTracker app, which is available at the Google Play and Apple app stores. Created by Olivia Goodreau to help combat tick-transmitted infections and diseases, the app uses a patent-pending algorithm to coordinate multiple tick-activity data sources into a simple and user-friendly map view.
The LivLyme Foundation envisions a world without Lyme disease and supports the work of researchers and scientists who are dedicated to finding an effective treatment and a cure. LivLyme Foundation also provides education and funding to children and their families who are struggling with Lyme disease. For more information, visit http://www.livlymefoundation.org.
TickTracker is a mobile app developed to help educate everyone as well as assist in the fight against tick-borne diseases by logging and tracking tick sightings and bitings. Our goal is to learn where ticks are and are migrating to in order to help educate and prevent against tick-borne diseases. For more information, visit https://ticktracker.com/
See also:
https://www.facebook.com/livlymefoundation/
https://www.facebook.com/ticktrackerAPP/
https://twitter.com/TicktrackerAPP
https://www.instagram.com/livlymefoundation/