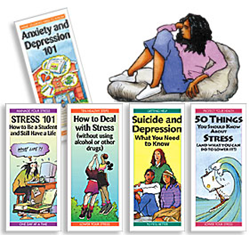 Many teens report feeling overwhelmed, depressed or sad as a result of stress.
Santa Cruz, CA (PRWEB) March 26, 2014
According to a recent study by the American Psychological Association U.S. teens are stressed out and need to learn coping skills. In a survey called Stress in America, the APA discovered that many American teens experience stress at unhealthy levels. Though teens report being aware of the stress, most teens do not realize that stress can harm their health.
According to the study, "Healthy teens who experience consistent stress have higher levels of inflammation, which has long been associated with development of cardiovascular disease. Even the common cold is influenced by stress — people living with chronic stress get more frequent and severe viral infections."
In addition many teens report feeling overwhelmed, depressed or sad as a result of stress. The study concluded that teens who felt the most stressed did not know how to manage their stress, underscoring the importance of health education. Professionals and others who work with young people will want to check out the easy-to-read, friendly brochures available from Journeyworks Publishing. With a good selection of titles on teen stress, anxiety and mental wellness, health educators can find the right tools to help teens cope. To request select samples visit Journeyworks Publishing's Teen Stress review pack page.
About Journeyworks Publishing
Journeyworks Publishing is a national health education and health promotion publisher with more than 10,000,000 pamphlets, brochures, booklets, posters, bookmarks, videos, digital pamphlets and other products distributed each year. Used extensively by public health departments, hospitals, schools, VA programs and more, Journeyworks materials are known for being creative, effective, easy-to-read and accurate. You can learn more by visiting http://www.journeyworks.com.