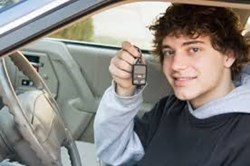 Many parents have not educated their young drivers on the importance of keeping a clean driving record and how this can impact an auto insurance policy
Naples, Florida (PRWEB) October 25, 2013
Gulf Coast Educators Insurance, A Horace Mann Company, announces safe driving tips for teenage drivers. In recognition of National Teen Driver Safety Week, the Florida insurance agents at Gulf Coast Educators Insurance offer tips for safer driving.
"Nationally speaking, there are thousands of teenage drivers behind the wheel every day. Most of them don't realize the impact they can have on other people should they have an accident. Many parents have not educated their young drivers on the importance of keeping a clean driving record and how this can impact an auto insurance policy. A Florida insurance premium can be greatly affected if a driver has a reckless driving history," states Ross DeFreitas, owner/agent of Gulf Coast Educators Insurance.
National Teen Driver Safety Week runs from October 20 – October 26, 2013. This week is an annual time designated by Congress to raise awareness of teen driver safety topics and to encourage safe teen driver and passenger behavior. This national recognition is now in its seventh year.
Gulf Coast Educators Insurance offers the following tips for young drivers and their parents:
1) Focus on driving and keeping eyes on the road when talking to your passengers, simple tasks such as a conversation can be a distraction to any driver
2) Driving while under the influence of drugs and/or alcohol is illegal and the combination of the two can be deadly at any age
3) Parents should set a good example by putting the phone down when driving or pulling over if needing to use their phone
4) Teen drivers should require all their passengers to buckle up, even those in the back seat
5) Doubling the vehicle speed can quadruple the distance required to stop, slow down so you have time to stop
The Florida insurance agents at Gulf Coast Educators Insurance encourage parents to talk with their young drivers about safety while on the roads especially as we approach the holiday season. If young drivers are driving in snowy regions this winter parents may want to consider increasing their auto insurance coverage.
"Families traveling over the holidays often let their young drivers get behind the wheel of a rental car and drive in snowy conditions. We recommend Florida insurance policy holders call us if they themselves or their teen drivers have plans to drive in the snow. We can make some suggestions for safer driving in these conditions," states DeFreitas.
Gulf Coast Educators Insurance has three offices in Southwest Florida in the areas of Naples, Port Charlotte and their newest insurance office in Ft. Myers. In addition to car insurance consumers can also purchase home and property insurance.
"We have many coastal residents who rely on Gulf Coast Educators Insurance for their flood insurance. There have been changes this year to flood insurance coverage so we do recommend homeowners contact us for more information on these changes as they are looking to move to a coastal home or build along the water front," adds DeFreitas.
Gulf Coast Educators Insurance offers a wide variety of auto insurance products to cover cars, motorcycles, boats and golf carts. Their home and property insurance policies provide coverage for homes of any size. For Florida residents who do not own a home, renters insurance is also available.
For more information on Florida insurance policies consumers are encouraged to visit online (http://www.gulfcoasteducatorsinsurance.com) or call Gulf Coast Educators Insurance in Naples, FL at 239-591-0963, Port Charlotte, FL 941-391-5423 or Ft. Myers, FL at 239-997-0420.