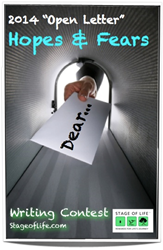 Her story choked me up and brought tears to my eyes...it's the kind of inspirational story that will give strength to anyone who reads it...and I hope everyone does. --Eric Thiegs, CEO and Founder of StageofLife.com
Dallastown, PA (PRWEB) February 28, 2014
To better understand how teenagers feel about their hopes and fears for the New Year, StageofLife.com, a multi-generational blogging community, asked thousands of high school and college students a few questions about creating New Year resolutions and making a difference in the world as part of its monthly writing contests and teen research initiatives.
The results revealed the following statistics about teenagers:
--65.2% of teens make New Year's Resolutions.
--80.6% of teenagers are more "hopeful" for 2014 than "fearful."
--87.6% of teens feel they have the power to make a difference in the world.
--75% of teenagers think about the state of our world either "always" or "often" - compared to 25% that claim they think about the state of the world only "sometimes" or "never."
--13.4% of teens say they are "not successful" at following through with New Year's Resolutions.
--"Educational Goals" ranked the highest in terms of importance from a list of goal categories given to students. Other categories included financial goals, fitness goals, travel goals, hobby goals, career goals, purchase goals, friends/family goals, and community goals.
Teens also nominated candidates they feel are either the most influential person in their lives or those who have the most power to create change in our world.
Over 7,600 students visited the essay and survey page during the monthly writing prompt and hundreds answered the poll. An additional 201 teen bloggers submitted an essay to StageofLife.com sharing their personal story in an open letter addressed to someone important in their lives, alive or dead, famous or not that answered the question, "What are your hopes and fears?"
The winning 1st place student essay, "Dear Me: Living in the present is more beautiful than you could ever imagine" was written by Texas college student, Casey Evans, who attends Blinn Junior College and heard about the Stage of Life writing contest from her teacher.
Rebecca Thiegs, VP of Education for StageofLife.com, asked Evans about her inspiration behind writing, and she responded, "Writing has always been something I can pour myself into. I love to write because I can express myself in ways that I sometimes find myself not able to through normal face-to-face conversations. There's something so pure and genuine about writing…Honestly, I love to write because it is a way for me to leave my mark."
StageofLife.com editors selected two top placing non-student essays which were submitted by Melissa Colville from Cape May, NJ per her story, "Dear Peanut: I hope you never know", and Susanna Olson who wrote "Dear Emily Dickinson: They are still going at it."
After reading Colville's story, Eric Thiegs, CEO and Founder of StageofLife.com, said, "Her story choked me up and brought tears to my eyes...it's the kind of inspirational story that will give strength to anyone who reads it...and I hope everyone does."
A winner was also named from its Twitter contest which asked people to creatively Tweet an answer to the writing prompt, "What's your New Year's Resolution?" The winning Tweet came from @thecrazywriter who posted, "My resolution is to stop living in the future and to focus on the good things I have now, even if it's hard to see them."
Winners from the monthly Twitter and writing contests received gift cards from StageofLife.com educational corporate sponsors Applebee's, IHOP, Papa John's, and SpaWeek.com.
To read all of the essays and download the full teen statistics report on this and other monthly writing contests, visit the StageofLife.com.
# # #
StageofLife.com is a privately funded, start-up company founded in 2009. The website's mission is to change the world, one story at a time. With over 20,000 stories shared from over 10,000 bloggers across the world, the site welcomed its 1,000,000th visitor last year and provides an international writing community for today's teen, Gen X, Gen Y, and Baby Boomer generations.