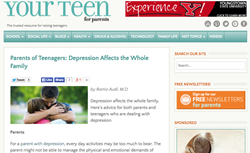 Better research, new medications and a more open outlook on depression in general have allowed breakthroughs to be made in teenage depression.
Beachwood, Ohio (PRWEB) April 28, 2014
Clinical depression is a medical condition that affects one in 10 teenagers as well as numerous parents.
Depression is an "invisible" malady that is often hard to recognize or diagnose because it can be confused with individual temperament and traditional teenage angst. Depression can be mild or intense in teens and can lead to serious outcomes such as "cutting" and even suicide attempts – in addition to failing grades, household tension and family disharmony.
Parents who suffer from depression can leave teenagers feeling guilt, confusion and anger. Your Teen Magazine reports on this often-stigmatized disease with a series of articles from parents, teenagers and counseling, providing guidance and tips for parents and teens dealing with this disease.
"Depression in teens is on the rise," Your Teen Editor-in-Chief Susan Borison says. "Better research, new medications and a more open outlook on depression in general have allowed breakthroughs to be made in teenage depression. Parents today – as well as their teen children – are recognizing that their anguish and lethargy is legitimate and can be treated. There are much better outcomes for depression, accordingly, which is great news."
Today's news stories feature many young adults coping with the difficult stage of adolescence. School violence, suicide, addiction – depression may be at the core and these teens require intervention. Psychological evaluation, counseling, medications and strong support systems are vital strategies for navigating depression in teens as well as in their parents, but it all begins with education, which is where the Your Teen coverage contributes to the conversation.
Articles in this timely and encouraging series from Your Teen include:
"Depression Affects the Whole Family"
http://yourteenmag.com/2014/03/expert-advice-depression/
"Start the Conversation about Depression"
http://yourteenmag.com/2014/03/depression-teen-expert-advice/
"Depression Was Not Part of My Parenting Plan"
http://yourteenmag.com/2014/03/parenting-teens-depression/
Is My Teen Moody or Depressed
http://yourteenmag.com/2014/04/major-depression-in-teens/
Addressing clinical depression from the perspectives of teens and their parents plus one mom who struggled with her own depression, as well as professionals who treat depression, the Your Teen depression series hopes to empower parents with awareness and information in order to shed light on this puzzling and crippling condition that can impact the emotional, social and academic development of teenagers.
As the article, "Depression Affects the Whole Family," written by Dr. Ramiz Audi, explains, "Treatment for the depressed teen or parent begins with a psychiatric assessment. From here, the psychiatrist can recommend medication, therapy or both. Treatment should be holistic, addressing the interactions between each family member, and, if appropriate, including the family in the treatment. Ultimately, it's important for family members, either together or individually, to seek help to manage their frustration, anxiety and sadness in supporting their loved one. Through family support, each person with depression will have the ultimate chance of remission."
About Your Teen Magazine
Your Teen addresses the challenges inherent in raising teens and helps parents of teens to continue the journey toward the goal of successful parent. In the magazine format, parents can post questions, offer personal tactics and hear the different perspectives of professionals, other parents and teenagers on relevant topics. Your Teen hopes to ease the worry.
Your Teen is available at http://www.yourteenmag.com/subscribe and in select Barnes & Noble Bookstores.