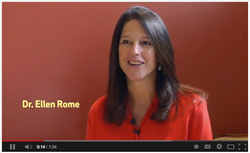 We're quite delighted to have her breadth and depth of knowledge made available for our readers.
Beachwood, Ohio (PRWEB) May 29, 2014
Your Teen Magazine is happy to announce that starting this month, Dr. Ellen Rome will be answering reader questions in video-A Minute With Dr. Ellen Rome. Dr. Rome is head of the Center for Adolescent Medicine at the Cleveland Clinic Children's Hospital and a pediatrician with more than two decades of experience. Several days a month, visitors to YourTeenMag.com can tune in to Dr. Rome's short, informative videos to get answers to key questions about adolescence. This month, Dr. Rome answers those embarrassing questions that teens and their parents feel uncomfortable asking.
Dr. Rome is also the co-author of "YOU: The Owner's Manual for Teens: A Guide to a Healthy Body and Happy Life." Rome co-authored the popular book with famed television physician Dr. Oz and noted author and wellness expert Dr. Michael Roizen.
"This is a really exciting development for Your Teen Magazine and all our loyal readers," Your Teen Editor-in-Chief Susan Borison says. "Dr. Rome brings so much insight into important teenage issues concerning the body, medical treatment, privacy issues between teens and their parents and care providers. We're quite delighted to have her breadth and depth of knowledge made available for our readers. We know that parents are going to greatly appreciate her information and advice via all of our media formats."
Rome also recently made a video for Your Teen Magazine that can be found on YouTube. In the video, "Hair: My Hairy Teen Doesn't Seem to Mind," Dr. Rome addresses issues with grooming and self-esteem and unwanted hair or even unnoticed hair and how parents can help their teens deal with such issues tactfully and without embarrassment or shame.
https://www.youtube.com/watch?v=a1S0tgeEmv0
Dr. Rome has already shared some advice for readers of Your Teen Magazine.
Collaborating with Dr. Rina Lazebnik, Division Chief of General Pediatrics and Adolescent Medicine at University Hospitals in Cleveland, Ohio, she answered questions about medical confidentiality issues in "Teen Medical Confidentiality: Expert Advice."
http://yourteenmag.com/2011/10/dr-ellen-rome-and-dr-rina-lazebnik-medical-confidentiality
Dr. Rome also authored an article on how to deal with a teenaged daughter who may or may not be dealing with an eating disorder while pretending that it is "her friend" that is experiencing the problem. Rome opines about the need for tact in such harrowing situations: "Be an active listener. Ask open-ended questions that your teen can't answer with a simple yes or no. Try to find out whether the friend is actually code for, 'Mom, I'm too worried to talk to you about this, and I don't think you'll handle it well if you knew it was MY problem.'"
About Your Teen Magazine:
Your Teen addresses the challenges inherent in raising teens and helps parents of teens to continue the journey toward the goal of successful parent. In the magazine format, parents can post questions, offer personal tactics and hear the different perspectives of professionals, other parents and teenagers on relevant topics. Your Teen hopes to ease the worry.
Your Teen is available at http://www.yourteenmag.com/subscribe and in select Barnes & Noble Bookstores.