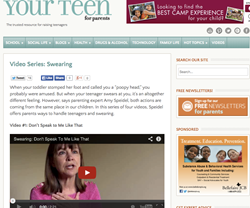 Learning how to handle this so-called affront is a good strategy both for the parent and the struggling teenager.
Beachwood, Ohio (PRWEB) August 28, 2014
It's always a bit of comedy and a bit of horror when your small child swears for the first time – and it's usually in a socially unacceptable place when it happens so the humor and horror are amplified.
Small kids quickly learn that certain words are "bad" and not to be said out loud, at least not in front of their parents. When these children mature and become teenagers and begin to swear again, it can be truly upsetting and dramatic for parents. It can also become a teaching moment or a confrontational moment between child and adult, depending on how it is addressed.
"Given the propensity for swearing in today's society in media outlets such as movies, TV and popular music, it's just more likely that your teenage child is going to swear at some point – and it will probably be at you," Your Teen Editor-in-Chief Susan Borison says. "Learning how to handle this so-called affront is a good strategy both for the parent and for the struggling teenager. It can make a big difference in that ongoing parent-teen relationship."
To address this important coming-of-age subject, Your Teen Magazine for Parents is happy to announce a new video series on teenage swearing and adult reactions. Aimed at providing parents with the mental strategy of patience and understanding, the new video series – featuring parenting coach Amy Speidel – helps to frame teenage swearing around the emotional and mental backdrop of why teens swear at their parents and what parents need to consider before they react against their children.
Beginning with the video, "Don't Speak to Me like That," and proceeding through "My Teen Swore at Me: I Am So Insulted," "Swearing: The Verbal Exclamation Mark," and "Swearing: I Want an Apology," Speidel takes parents on an internal tour of the teenage mind and presents several reasons why teenagers swear at their parents that have little to do with actually disrespecting their parents.
All four videos, including transcripts, can be viewed here for free:
http://yourteenmag.com/2014/07/video-series-swearing
Understanding the key concepts in the videos can empower parents to be more understanding and discerning when their tweens or teens are obviously having a tough time about something.
As Speidel explains it in video number one, Don't Speak to Me Like That, "So, just like adults, teens use those swear words when they feel at a loss about how to feel empowered. So think about the time when maybe a word slipped out of your mouth. That's what happens for them as well. They feel the pressure oven at a moment when they don't have anything more relevant to say to plead their case and then it's just, 'Well, you're a fill in the blank.'"
About Your Teen Magazine
Your Teen Magazine for Parents addresses the challenges inherent in raising teens and helps parents of teens to continue the journey toward the goal of successful parenting. In the magazine format, parents can post questions, offer personal tactics, and hear the different perspectives of professionals, other parents and teenagers on relevant topics. Your Teen hopes to ease the worry of parenting teens in today's modern world.
Your Teen is available at http://www.yourteenmag.com/subscribe and in select Barnes & Noble Bookstores.