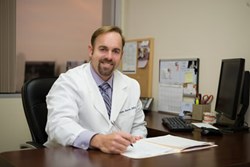 This is a patient centric service based practice, Dr. Ravera always makes himself available to his patients whether it be after regular working hours or on the weekends
Newport Beach, CA (PRWEB) January 16, 2014
Dr John Ravera D.D.S., a dentist who practices in Newport Beach, Calif., has just announced the launch of his new and easy-to-navigate website. The site features in-depth information about Dr. Ravera's practice as well as the many top-notch services he provides. From regular dental check-ups to bonding, crowns and bridges, specialty dentures and more, Newport Beach dentist John Ravera has earned a well-deserved reputation for his kind and caring manner.
As an article on the newly-launched website noted, Dr. Ravera truly believes that he and his patients become a team with one key goal in mind: treating each individual's cosmetic dentistry needs. He and the other staff members in his concierge-style dental practice that accepts most insurances spend a lot of time getting to know their patients, and listening to them and their various dental concerns, before coming up with a treatment plan. Once a procedure has been performed, the professional and friendly staff will follow up with their patients, to be sure they are not experiencing any pain, that their dental problems have been satisfactorily resolved, and that their health is improving.
Because Dr. Ravera wants all of his patients to be as well-informed as possible about their dental procedures, he has included an extensive and in-depth section on his new website that covers the full range of topics that are associated with cosmetic dentistry, as well as services and diagnoses.
For example, people who are interested in learning more about teeth whitening, veneers, root canal therapy, TMJ issues (jaw joint discomfort), Invisalign and more will find helpful articles on the site that offer information about these various services.
"This is a patient centric service based practice, Dr. Ravera always makes himself available to his patients whether it be after regular working hours or on the weekends," an article on the new website noted, adding that office uses the most up-to-date dental technology.
"We do offer conscious sedation and general anesthesia services for those with high anxiety, extensive treatment, disabilities, or just for the convenience. We use a highly experienced dental anesthesiologist."
About John Ravera D.D.S.:
John Ravera has been in private practice since 1999. His practice provides cosmetic, general, and emergency dentistry in addition to volunteer services locally and abroad. Dr. Ravera's close knit, service-based practice provides comprehensive care services that include—but are not limited to—All on Four, mild to moderate sleep apnea, implants, Invisalign, clenching and grinding oral appliances (nightguards), TMJ therapy, implants, Endodontics (root canals), veneers, cosmetic fillings, and crowns and bridges. For more information, please visit http://www.johnraveradds.com
Dr. John Ravera, D.D.S.
1441 Avocado, Suite 404
Newport Beach, CA 92660