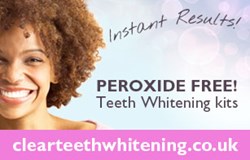 (PRWEB) February 07, 2014
Clear White Teeth has launched a new product range of peroxide-free teeth whitening kits. This industry leading formula, specially tested in the US, will give instant results by using the safest ingredients available. Also tested for the UK market and supplied to UK dentists, Clear White Teeth is proud to announce the launch of five new products to their online store.
For Those Who Have Always Wanted a Naturally Whiter Smile
For anyone wanting a naturally whiter smile, the new range of non-peroxide teeth whitening kits is the safest way to whiten teeth without the need for a visit to the dentist.
The ClearTeethWhitening.co.uk product range contains the leading teeth whitening formula available today. The product range has been developed based on many years of industry knowledge and experience (including US testing). The products are able to give an improvement of up to 11 shades, which results in much whiter teeth. The results also last for up to 6 months, reducing the number of treatments required for long-term whiteness. For these benefits alone, the reasons are apparent as to why they supply a wide selection of UK dentists and dental surgeries.
When speaking to a dentist who uses these products it was disclosed that "Often the problem UK patients face with teeth whitening is the worry that they will have teeth looking 'too fake' or that they may cause unwanted side effects." He then went on to explain that "Clear White Teeth's unique formula means that the actual shade of white is really in the hands of the user. Meaning that if you want your teeth whiter, you simply use the products for longer, and if it's only a temporary improvement you are seeking, then just use them for a shorter amount of time."
Teeth Up to 11 Shades Whiter
Their kits use the industry's leading teeth whitening gel and are supplied to and approved by UK dentists, who use them to produce results of up to 11 shades whiter teeth, demonstrating the quality of their products. The company also supplies private salons and consumers based all over Europe with these 'easy to use', non-peroxide teeth whitening kits.
Just 30 Minutes per Application, for Results Up to 6 Months
For those looking to increase the whiteness of their teeth, there are two options of teeth whitening kits available. These include the deluxe and classic versions. The deluxe kit comes with an LED whitening light enhancer, which will give up to 200% better results and is the favoured choice by dental professionals.
Amongst the other products and options available there are teeth whitening pens, teeth whitening gels, daily whitening foam, and even LED technology to give enhanced results. Whatever the preferred method for enhancing the appearance of a patient's teeth, Clear White Teeth have a solution to match.
Application usually takes between 30-45 minutes, depending on the increase in whiteness required. And they can easily be used for 'one-off' occasions, to help improve the subject's appearance for those important life occasions, such as birthdays, anniversaries, job interviews, to name just a few.
For anyone who has ever wanted whiter teeth on a special occasion, find out more at http://clearteethwhitening.co.uk/all-products/.