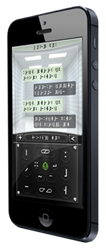 It's fun and really easy to learn. Where else can you learn a new language in five minutes? - Ryan Faught, Founder & CEO
Los Angeles, CA (PRWEB) January 30, 2014
Available now, Tehnzo is a futuristic messaging console for your iPhone. It begins with a free interactive virtual instructor. In just minutes, this digital tutor coaches new users in how to read, write and communicate fluently in Tehnzo — and then the real fun begins. In addition to serving up the fun of decoding a new language, Tehnzo serves as a fully operational and super sleek texting interface that gives users the immediate satisfaction of communicating in Tehnzo.
Tehnzo is also very easy to share, if your contacts don't already have the app downloaded, send them a Tehnzo invite through the app. Messages written in Tehnzo are virtually indecipherable by those who have yet to learn the language. So your Tehnzo conversations are safe from the prying eyes of bosses, teachers, siblings and parents. Although, the most important thing is that it's a lot of fun.
"Users will be hooked instantly and excited by their ability to understand and communicate in this unique secret language. It's fun and really easy to learn," said Ryan Faught, Founder and CEO of Zicon Enterprises. "This is truly an app for everyone - all ages, genders and ethnicities. If you know the alphabet and basic arithmetic, you'll learn Tehnzo in minutes."
You can download Tehnzo for free in the app store here: https://itunes.apple.com/us/app/tehnzo/id705700331?ls=1&mt=8.
Tehnzo, version 1.2 is currently available to download for free. After a 72 hour trial period, users are prompted with an in-app purchase option of $0.99 to upgrade to a lifetime of unlimited texting capabilities. The app is available in the U.S. and currently 34 other countries on the App Store.
Android and Window's mobile platforms are currently in development, along with other Tehnzo apps and products. Visit http://www.tehnzo.com for more information, including updates and new developments, photo gallery, a downloadable Tehnzo font, Tehnzo merchandise and a member forum for Tehnzo fans from around the world to interact directly with one another solely in Tehnzo.
Tehnzo was developed and is being distributed by Zicon Enterprises, LLC. For further information or to schedule an interview, interested media should please contact Dave Sorrendino at (323) 305-4577 or dave(at)tehnzo(dot)com.