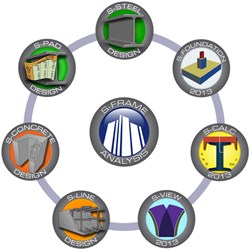 ...one-way static data transfer is not enough in today's business world.
Grapevine, TX (PRWEB) August 27, 2013
Red Seat Software, a Structural Engineering Software Solutions Provider for S-FRAME Software, Inc. and Tilt-Up Design Systems, LLC, announced the availability of an online video which illustrates the bi-directional link capability found between S-FRAME Structural Office R11.00.15 and Tekla Structures.
The video, created by S-FRAME Software, shows the capabilities, along with utilizing how S-FRAME Structural Office interoperates with design definition existing in Tekla. Since being introduced in March 2013, the interest in the BIM link sparked the creation of the "how-to" video. In addition, with the point release of Structural Office R11.00.15, the support has been added for Tekla Structures 19. The bidirectional link provides extended functionality and improved model persistence between Tekla and S-FRAME Structural Office R11.
The two video may be viewed at:
http://www.youtube.com/watch?v=Hwmd3PxwI6s
John Parady, Principal at Red Seat Software, commented about the BIM Link video, "Everywhere you go in the construction world there is an increased emphasis on product integration amongst commercial off the shelf (COTS) solutions. This resonated with S-FRAME Software years ago with the ability to import file formats such as AutoCAD DXF into S-FRAME Analysis. However, one-way static data transfer is not enough in today's business world. Designers, Architects, and Engineers need to collaborate with each other in real time, sharing design concepts along with proofs and modifications of those concepts. The Tekla bi-directional link is a way to better integrate S-FRAME Structural Office users into the project ecosystem."
About Red Seat Software
Red Seat Software is a distributor within the USA for Structural Engineering Software Solutions from S-FRAME Software, Inc., and Tilt-Up Design Systems, LLC. The solutions provide architects, designers and engineers with tools to help with the design and analysis of projects, along with the capability to design and generate drawings for on-site construction projects. The products are used in a wide range of industries, such as Oil & Gas, Commercial & Industrial Building Construction, and Transportation Infrastructure. Red Seat Software is an independently owned software distributor located in the Dallas/Ft. Worth, TX area. The mission of the company is to provide Structural Engineering Professionals with software solutions that are easy to use, accurate, and proven to add efficiency and value to structural engineering project workflows.