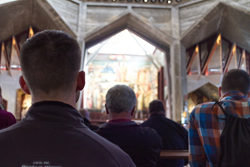 Yesterday I experienced more beauty than I have on any other day in my memory.
Jerusalem (PRWEB) December 18, 2014
"Yesterday I experienced more beauty than I have on any other day in my memory." These the words of Christopher Trummer, a sophomore from Springfield, IL.
Last year, Fr. Bob Robeson, Rector of Bishop Simon Bruté College Seminary in Indianapolis, began planning a special pilgrimage for his college seminarians. The seminarians would use the first part of their winter break to travel to the Holy Land and Rome before returning to the United States for Christmas.
The group consists of twenty-six pilgrims. Twenty-three seminarians and two parents joined Fr. Robeson for the pilgrimage that was intended as both an educational and spiritual adventure.
Seminarians from IN, KY, IL, OH and TN began their 6,200 mile trek to the Holy Land on December 12. Some will return on December 21 while others traveling to Rome will return on December 27.
"We left for the Holy Land on the Feast of Our Lady of Guadalupe and we have arrived in the Holy Land, safe and sound! Currently we are in route to the West Bank to visit Bethlehem," said seminarian Corey Bruns of Owensboro, KY.
Corey began a daily blog of the Holy Land pilgrimage where he is posting videos, photos and reflections.
The pilgrims are following a packed itinerary. One of the most recent stops was the Jordan River, near the traditional site of the baptism of Jesus.
"After our early morning Mass we headed down to the river Jordan for a renewal of our Baptismal Vows. We all got into the water, and renewed our Baptismal vows," according to Corey Burns.
The group also stopped in Jericho. Amidst the learning being accomplished from time spent in the most ancient inhabited city in the world came some fun as well. Not far from Jericho is the Dead Sea- and the famous mud that layers the sea floor. Photos of the seminarians covered in the famous Dead Sea mud can be found on the "To Walk In His Footsteps" blog and other social media sites, such as the seminary's Facebook page.
Though fun is a key part of any college students' travel, seminarian or not, spiritual growth was the aim of organizer, Fr. Bob. Communications from the group make clear that aim has already been accomplished.
"Everything that I'm experiencing on this pilgrimage is revitalizing my appreciation of beauty, both natural and man-made," said Chris Trummer. "Natural beauty, having the Divine Artist as its source, does not reduce our appreciation for Divine Beauty, but enhances it, just as the words of a love poem enhance our appreciation for, not only language and poetry, but for the lover who wrote it."
As Fr. Robeson reflected on this special Catholic pilgrimage thus far, he said, "It occurred to me today [in Capernaum] that this is the very life that our seminarians are trying so hard to prepare for; loving Jesus and feeding His sheep. Most of all I was made vividly aware of the Lord's incredible mercy."
The group asks for prayers from their friends, family, parishioners and the public as they finish the second half of their incredible pilgrimage.
For more information, contact Chris Weldon at cweldon(at)tektonministries.org or visit the website for Tekton Ministries at http://www.tektonministries.org.