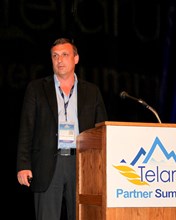 Telarus and its partners are a razor sharp selling organization. It's a privilege working with them.
Sandy, UT (PRWEB) February 17, 2014
Telarus, Inc., distributor of commercial data, IP, voice, and cloud service and patent holder of real-time carrier quotes, today announced that it was named 2013 Top Partner by Vocal IP Networx. This marks the fourth year in a row that Telarus has received this honor since joining forces with Vocal IP Networx back in 2009.
"We are grateful and excited to be recognized as the top channel partner for Vocal IP Networx," commented Adam Edwards, President of Telarus, Inc. "The accomplishment reflects the true dedication and support provided by Vocal IP Networx. Their continual investment in technology has provided our partners the resources they need to retain more customers."
Vocal IP Networx is well known for their creative solutions, superior support, and their overall low churn rate. Telarus brought on Vocal IP Networx as one of their first cloud voice providers and have experienced steady growth over the last four years.
"Vocal IP Networx is truly unique," added Lanny Gray, VP of Business Development for Telarus, Inc. "Vocal IP Networx has earned our partner's trust by thinking outside of the box. Their dedication to creating custom solutions designed to enhance customer retention and productivity is remarkable."
"We are thrilled at the success and relationships we have developed with Telarus over the past several years," added Eugene Laykhtman, CEO at Vocal IP Networx. "Telarus is the pinnacle of innovation and support, which is fundamental in a technology sales world."
About Vocal IP Networx
Vocal IP Networx is a national facilities-based ISP and IP telephony services provider headquartered in New York City. Vocal IP Networx is home to the industry's most productive hosted phone system. Combined with the industry's leading disaster recovery platform, Vocal IP Networx delivers the ultimate technology experience for enterprise clients. Founded in 1996, Vocal IP Networx serves enterprise companies and specializes in the retail, finance, and healthcare markets. Vocal IP Networx operates datacenters in Newark, NJ, NV and Chicago. For more information about Vocal IP Networx, please visit: http://www.telarus.com/carrier-information/vocal-ip-networx.html.
About Telarus
Telarus, Inc., a value added distributor that holds contracts with the world's leading commercial telecommunication carriers, makes it easier and more profitable for solution providers, VARs, and MSPs to sell and source voice and data WAN solutions. Our patented GeoQuote platform combines real-time carrier pricing with advanced research features and branded proposals. Telarus' experienced Sales staff is strategically focused on enterprise WAN and high-capacity bandwidth solutions, making it easier to find the best offer, every time. For its part, Telarus has been named the top Master Agent by the members of the Telecom Association in each of the past three years, the first and only company in the carrier channel to accomplish this feat. Whether you are a top producer or a voice-and-data expert just starting out on your own, there is a place for you in the Telarus community. For more information on the Telarus partner program, please visit http://www.telarus.com or call the new partner hotline at 877-346-3232.