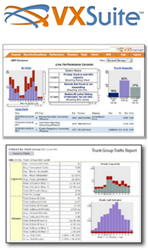 VXSuite is the glue that makes technology work
Sandy, UT (PRWEB) September 04, 2014
Telarus, Inc., distributor of commercial data, voice, and data center services, announced today that it has signed an exclusive agreement with LVM, Inc., a leading provider of network monitoring and alerting software called VXSuite. Using the VXSuite modules, including VXTracker, VXPulse, VXMobile, VXSuite for Microsoft Lync, VXSuite for ShoreTel, and VXRecord, Telarus partners now have the ability to perform network assessments prior to new technology deployments, monitor the performance of the network, and proactively work with carriers to remedy service outages and other quality issues.
"Although VXSuite has a robust set of products developed primarily for VARs, we are thrilled that they were able to create a lineup of products that our telecom partners will be able to use to effectively differentiate themselves in the market," commented David Bashford, president of Telarus, Inc. "Our exclusive partnership allows our partners, many of them for the first time, to get involved with their clients on a level above the carrier selection discussion. They can now offer to monitor the network and address issues – like the need for more bandwidth – in real time."
Under the terms of the agreement, Telarus partners will be able to offer all of VXSuite's products under their own brand, for a residual commission. In preparation for launch, the newly formed Telarus Engineering Department has been certified in VXSuite's products.
"We are excited to welcome Telarus to our channel," added Roger Blohm, president of LVM, Inc. "With the level of sophistication required to make most unified communication products work effectively increasing, telecom agents have to adapt and add more value on a technical level. With our software providing an easy-to-use technology dashboard, and the new Telarus Engineering Department behind them, Telarus partners will be able to make that pivot to trusted advisor."
"VXSuite is the glue that makes technology work," added Tyler Smith, VP of Engineering for Telarus. "In Unified Communications, there are so many possible failure points that many partners tread lightly or lack confidence to put their reputations on the line to make recommendations. VXSuite is the perfect tool to allow partners, engineers, and VARs to view the entire network, find problems before they happen, and optimize the WAN to ensure the end-user is enjoying fantastic call quality, glitch-free video conferences, and higher productivity as a result."
For more information about how Telarus can support your telecom practice with VXSuite's product portfolio, please visit http://www.telarus.com or call the new partner hotline at 877-346-3232.
About VXSuite
VXSuite, Inc. is a leading software development company specializing in Unified Communications Ecosystem Management. Established in 2009, they have led the charge in helping companies understand their ecosystem, optimize performance and deliver unparalleled quality of experience to users. VXSuite's corporate offices are in Sandy, UT, with sales, support and development personnel in located Southern California, Wenatachee, WA and Rochester, NY. For more information about VXSuite, please visit our website, http://www.vxsuite.com.
About Telarus
Telarus, Inc. is the value added distributor that solution providers, VARs, and MSPs turn to for innovation. We hold contracts with and drive sales volume to the world's leading commercial telecommunication carriers through our partner channel, which we spoil with patented research technology, Cisco-certified sales engineers, complex project managers, commission advances, and single point-of-contact support. We have been named the top Master Agent by the members of the Telecom Association every year since 2009, the first and only company in the carrier channel to accomplish this feat. Whether you are a top producer or a voice-and-data expert just starting out on your own, there is a place for you in the Telarus community. For more information on the Telarus partner program, please visit http://www.telarus.com or call the new partner hotline at 877-346-3232.