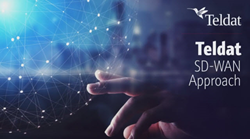 Teldat supplies a unique SD-WAN solution with considerably important advantages over the competing SD-WAN vendors, by allowing its clients to gradually evolve building up SD-WAN features and services as needed
Madrid, Spain (PRWEB) June 20, 2017
At the end of May, a few weeks ago, Teldat was present at the Digital Enterprise Show. An Important event for the telecommunications sector and especially important for Teldat, because it was where they re-launched their SD-WAN solution. An innovative SD-WAN architecture technology that is key to specific parts of the digital transformation, which a vast majority of companies and organizations are currently undergoing. This is not just something that Teldat believes; major technological research companies, such as IDC, also believe that SD-WAN solutions currently are and will be critical in the near future to the digital transformation that is taking place worldwide in companies and organizations. This is where the SD-WAN vendors and developers, like Teldat, will be playing a strategic role in shaping this future.
Indeed, at the Digital Enterprise Show Teldat was grateful to have Jan Hein Bakkers - IDC Senior Research Manager, who gave an interesting summary of the SD-WAN market, as an introduction to the SD-WAN architecture and solution presentations that were later expanded on by various Teldat Directors and Managers.
A SD-WAN architecture adapts to the fact that companies and organizations are becoming more distributed geographically, resulting in a wider spread of remote users that have changing requirements for bandwidth, primarily because of two reasons; firstly, the Applications installed on the cloud for organizing the emailing, storage, etc. and secondly, the more frequent use of video as a communication and training tool. Even if only these two aspects are taken into consideration, it becomes clear that the current WAN model is no longer optimal. However, on the contrary, the SD-WAN architecture addresses these new market requirements. It is a network that is less complex, more flexible and simpler to control, which overall makes SD-WAN a networkthat is much easier to manage.
So what exactly does Teldat's SD-SAN solution offer?
Teldat offers companies and organizations many advantages in comparison to other SD-WAN solutions on the market. First of all, most SD-WAN developers do not have the years' of experience in the telecommunications market that Teldat has, and Teldat has also been building on the SD-WAN predecessors already for years. Additionally, their solid in-house communication software technology is supported by their own hardware platforms. Together with working on overlay projects for hybrid internet/MPLS set ups and enabling Zero Touch Provisioning, these build a solid SD-WAN solution foundation.
Recently Teldat re-launched a comprehensive SD-WAN solution that is also unique, as with Teldat, customers can take the strain off their digital transformation program and migration to SD-WAN, because Teldat's solution allows them to commence at a basic level and gradually grow their SD-WAN architecture by adding features and services in a tailor-made way. This lowers the cost of the investment and makes it more affordable.
How does Teldat's unique SD-WAN solution work?
Teldat offers a high level user interface software, the Teldat Cloud Net Manager (CNM), which allows splitting the SD-WAN architecture into five independent, but closely connected products that can be taken on by the client in stages, as they need them. This is precisely what makes Teldat's SD-WAN unique.
The five independent SD-WAN products are:

CNM Base: the initial software platform that manages the distributed intelligence of the WAN and integrates the different networks into a single platform. So that no matter the underlay that is installed, it is converted into one overlay and the user has one single network view. The added advantage is that the Teldat Edge equipment supports many types of underlays.
CNM Provisioner: enables edge devices to be installed at branch level using Zero Touch Provisioning (ZTP), which makes deployment immensely simple and reduces related costs; primarily because, once installed, edge devices are automatically configured by non-technical staff. A simple plug and play task.
CNM Visualizer: entire network visibility of services and applications, including layer seven of the OSI model, for monitoring and analysis at different levels. Network visibility from a whole network level down to branch level. It uses a powerful big data engine architecture to obtain statistical information, identify problems on the network and implement contingency measures.
CNM Controller: defines and configures the network in a simple, intuitive and automated way, using a GUI (Graphical User Interface) to facilitate high level network shaping. It also abstracts and manages automatically minor, but essential aspects to develop a full configuration which is needed for the intervening devices on the network. This considerably reduces dedicated network management and enables error free configurations.
CNM Servicer: offer additional services to a standard SD-WAN solution such as enhanced security, WAN optimization, NAS and more. It also offers an advanced management application system, which is controlled centrally by the SD-WAN and hence contributes to reducing costs.
Overall, it is clear that SD-WAN solutions are important for the ongoing digital transformation in many sectors, including finance, education, retail and others. Teldat supplies a unique SD-WAN solution with considerably important advantages over the competing SD-WAN vendors. This is because Teldat's SD-WAN architecture allows its clients to gradually evolve their own tailor-made solution, building up SD-WAN features and services as needed and as is financially possible.