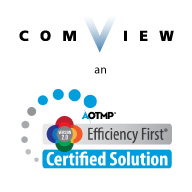 Many organizations have no real idea of their actual BYOD spend, since you can't manage what you can't see. Having all expenses in one place provides visibility across the entire wireless environment.
Huntington Station, NY and Orlando, FL (PRWEB) March 17, 2014
Comview announced today, at Enterprise Connect in Orlando, that it has further enhanced its Fixed and Wireless Telecom Management platform with expanded support for enterprises in need of better management and security for their mobile users and devices.
Many organizations find it increasingly difficult to manage the growing mix of corporate- and employee-owned devices. It was hard enough to keep up with wireless expenses and security before the concept of "Bring Your Own Device" (BYOD) became mainstream, but now it is much more complicated to maintain true control and visibility for all devices in the enterprise. Comview now simplifies matters with enhanced functionality for the Wireless Mobility Management (WMM) module of its integrated TEM solution.
Companies use Comview's software to keep track of mobile devices and spend across the enterprise, whether company-owned or not. Corporate devices are automatically tracked from carrier invoice data and other sources, while employee devices can be registered through the Comview portal, or via two-way integration with Mobile Device Management (MDM) providers like AirWatch that add additional layers of insight, security and control.
The Comview portal allows configurable color-coding by device liability, so it is easy for administrators to distinguish corporate devices from BYOD assets. Enhanced stipend management enables organizations to set up any number of profiles by device type (and even user role when tied into data from HR systems) to simplify the BYOD reimbursement process and provide valuable metrics.
Many organizations have no real idea of their actual BYOD spend, since you can't manage what you can't see. Having all expenses in one place provides visibility across the entire wireless environment. For example, Comview's "BYOD Cost Comparison Report" conveniently shows corporate device spend right next to BYOD numbers, enabling better management decisions.
Perhaps one of the biggest concerns surrounding BYOD is security. When integrated with a capable MDM, Comview intelligently combines different data feeds to identify mobile devices that are not registered with the MDM, enabling measures to be taken to close the security hole. Once a device is registered, most MDM functionality, like device wipes, can be achieved right from the Comview interface. Plus, information obtained from MDM feeds can alert companies to things like roaming status, so appropriate actions can be taken to minimize associated costs.
"These new enhancements to our telecom management platform come from listening to the needs of our customers and the market," said Comview CEO, John Perri, "Mobility has become such an integral part of most business today, that enterprises need better insight and tools to keep wireless expenses in check, and gain peace of mind when it comes to protecting corporate data in a mobile world."
To learn more, visit Comview in booth 1812 at Enterprise Connect, or on the Web at http://www.comviewcorp.com.
About Comview Corporation
Comview provides comprehensive, integrated Telecom Expense Management (TEM), Wireless Mobility Management (WMM) and Call Accounting solutions backed by industry-leading customer service. The company's cloud-based, unified software suite allows companies to easily manage all telecom usage and assets -- including Invoice Management, Wireless Management, Audit & Optimization, Call Accounting, Asset Management, Procurement and more -- from a single intuitive interface. A managed service/BPO approach and "customer for life" philosophy provides customers with the highest level of service and support and sustainable ROI. Comview's services are used by major organizations throughout the U.S. and abroad. For additional information, visit Comview at http://www.comviewcorp.com.