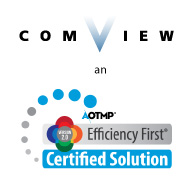 The LISA award recognizes innovation and excellence in software development
Huntington Station, NY (PRWEB) May 09, 2014
Comview Corporation announced today that it has received a prestigious 2014 Long Island Software Award (LISA) for the wireless mobility management module of its integrated telecom expense management (TEM) platform. The award, which recognizes innovation and excellence in software development, was presented by Long Island Software and Technology Network (LISTnet).
Comview provides customer-focused software and services that enable enterprises to achieve significant fixed and wireless telecom cost and process improvements. It won the award for ongoing enhancements to its cloud-based wireless management capabilities. The most significant of these enhancements include expanded support for BYOD (Bring Your Own Device) and robust Mobile Device Management (MDM) integration with AirWatch through a single, unified interface.
"We are honored to receive this 2014 LISA award from LISTnet," said John Perri, Comview CEO. "It is another testament to Comview's standard of excellence and the hard work and commitment of our product development and support teams. Congratulations to our fellow winners and honorees."
About Comview Corporation
Comview provides fully integrated Telecom Expense Management (TEM), Wireless Mobility Management (WMM) and Call Accounting solutions backed by industry-leading customer service. The company's cloud-based, unified software suite allows companies to easily manage all telecom usage and assets from a single intuitive interface, including: Invoice Management, Wireless Management (with BYOD and MDM integration), Audit & Optimization, Call Accounting, IT Asset Management, Procurement and more. A managed service/BPO approach and "customer for life" philosophy provides customers with the highest level of service and support and sustainable ROI. Comview's services are used by major organizations throughout the U.S. and abroad. For additional information, visit Comview at http://www.comviewcorp.com.