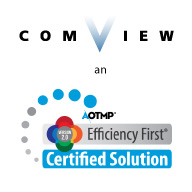 This automated process replaces manual ordering, ensuring speed and accuracy by eliminating unnecessary time and errors associated with duplicate data entry.
Huntington Station, NY (PRWEB) May 20, 2014
Comview Corporation, a premier provider of integrated telecom expense management, wireless mobility management and call accounting software and services, announced the availability of eBonding capabilities for its Verizon Wireless enterprise customers. eBonding further automates Comview's wireless procurement process by allowing its platform to exchange transaction information directly with Verizon Wireless on a system level. The functionality brings a number of advantages to customers.
First, Comview's platform gains and maintains full visibility into the catalog of available, customer-specific devices, accessories and plans through the Verizon Integration Platform, and then presents them as choices in the procurement module. When new service and equipment orders are entered and approved by an authorized user in the Comview portal, transaction data is electronically placed with the carrier. This automated process replaces manual ordering, ensuring speed and accuracy by eliminating unnecessary time and errors associated with duplicate data entry. The benefits are even more pronounced for high-volume customers.
eBonding also helps Comview maintain accurate inventory and order history. Beyond automating the transmission of approved orders, the two-way interactions feed relevant data, such as shipment status and device number, directly back to Comview's comprehensive wireless management portal, ensuring full insight into orders at any given time. In addition, any changes to cost center or address information made in Comview's portal are transmitted back to Verizon, ensuring the carrier's data is up-to-date.
"The inclusion of eBonding is a win-win-win for our customers, the carrier and our own managed service team," stated Comview CEO, John Perri, "This is just one more tool to help Comview provide the best, most-accurate and timely service we can. We are also exploring ways to gain additional benefits from the eBonding process."
The addition opens up possibilities for future enhancements, such as daily inventory updates and cancelation/suspension of devices through Comview's portal, as well as service request items like resetting voice-mail, requesting modification to plans/features or mobile telephone number (MTN) name changes.
About Comview Corporation Comview provides fully integrated Telecom Expense Management (TEM), Wireless Mobility Management (WMM) and Call Accounting solutions backed by industry-leading customer service. The company's cloud-based, unified software suite allows companies to easily manage all telecom usage and assets from a single intuitive interface, including: Invoice Management, Wireless Management (with BYOD and MDM integration), Audit & Optimization, Call Accounting, IT Asset Management, Procurement and more. A managed service/BPO approach and "customer for life" philosophy provides customers with the highest level of service and support and sustainable ROI. Comview's services are used by major organizations throughout the U.S. and abroad. For additional information, visit Comview at http://www.comviewcorp.com.