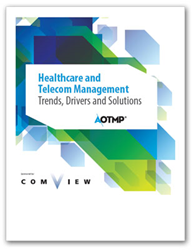 According to AOTMP research, 89% of healthcare organizations indicate optimizing telecom as a top priority...
Huntington Station, NY (PRWEB) June 17, 2014
Comview Corporation, a premier provider of telecom expense management (TEM), wireless mobility management (WMM) and call accounting software and services, announced that it has released a new white paper to help healthcare organizations better understand the business case for proper telecom management.
Unprecedented regulatory changes, technological advances and other market forces are causing the healthcare industry to undergo a rapid transformation. Overall costs are rising while revenues are declining. Healthcare systems are consolidating and merging in order to achieve financial and operational economies of scale. Finding additional streams of revenue and improving efficiency are paramount to survival.
Efficient telecom management is one way for healthcare enterprises to uncover immediate and ongoing savings. According to AOTMP research, 89% of healthcare organizations indicate optimizing telecom as a top priority, compared to 75% for other industries.
"Healthcare and Telecom Management: Trends, Drivers and Solutions," researched and written by AOTMP in collaboration with Comview, examines the dynamic health industry in the light of evolving telecommunications. The paper offers insights and advice on how effectively managed fixed and mobile telecom invoices, users and devices can make a significant impact on overall cost reduction and process improvement for healthcare enterprises. The complimentary paper is available at http://www.comviewcorp.com/to/health-tem-paper-14-prw.
In addition, Comview has also made available an on-demand version of its recent companion webinar at http://www.comviewcorp.com/to/health-tem-webinar-14-prw.
"Our goal was to couple our experience from many years serving healthcare enterprises with industry expertise from AOTMP to help more health organizations address similar challenges," shared John Perri, Comview CEO. "We're happy to make these two complimentary (and complementary) resources available to members of the healthcare community who are responsible for their organizations' telecom."
About AOTMP
AOTMP, headquartered in Indianapolis, IN, is a leading authority on driving efficiency and performance into enterprise fixed and mobile telecom environments. AOTMP's proprietary framework, methodologies and industry best practices bring a unique and disciplined approach that delivers significant and measurable improvement in financial and operational efficiency to our clients and current telecom expense management and wireless mobility management programs. From Fortune 50, small and medium business, to public sector markets and industry suppliers, organizations seeking to reach peak performance turn to AOTMP's Efficiency First® program including industry thought leaders, global knowledge, proprietary performance index, certification programs and unparalleled benchmarking data for a complete fixed and mobile telecom environment management approach. For more information, visit http://www.aotmp.com.
About Comview Corporation
Comview provides fully integrated Telecom Expense Management (TEM), Wireless Mobility Management (WMM) and Call Accounting solutions backed by industry-leading customer service. The company's cloud-based, unified software suite allows companies to easily manage all telecom usage and assets from a single intuitive interface, including: Invoice Management, Wireless Management (with BYOD and MDM integration), Audit & Optimization, Call Accounting, IT Asset Management, Procurement and more. A managed service/BPO approach and "customer for life" philosophy provides customers with the highest level of service and support and sustainable ROI. Comview's services are used by major organizations throughout the U.S. and abroad. For additional information, visit Comview at http://www.comviewcorp.com.