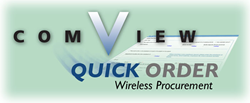 Quick Order was designed to reduce the average time it takes for administrators to order a device to less than two minutes, and in many cases, under a minute.
Huntington Station, NY (PRWEB) July 09, 2014
Comview, a premier provider of telecom expense management (TEM), wireless mobility management (WMM) and call accounting software and services, announced a new "Quick Order" enhancement for its wireless procurement module that enables enterprise telecom administrators to rapidly enter mobile device orders.
Like the name implies, Quick Order provides a streamlined way for authorized users to quickly submit new wireless device orders or upgrades. The feature was designed to reduce the average time it takes for administrators to order a device to less than two minutes, and in many cases, under a minute. From the single Quick Order interface, they can rapidly look-up users by device number or e-mail, check primary and buddy upgrade eligibility and select from customizable, corporate-approved carriers, devices, plans, features and accessories. Orders for new employees are just as easily accomplished using a departmental look-up and automatically adding the employee to the corporate hierarchy when the order is submitted.
Early adopters of Quick Order have reported significant productivity gains and improved order accuracy, since they don't have to waste time doing separate searches for user, device and plan information. Everything is available from one screen, and much of the relevant data is pre-populated based on look-up results. For customers using wireless eBonding, overall procurement time is reduced even further.
"Quick Order is a good example of a product enhancement that was a direct result of listening to customers, and respecting their different preferences when it comes to wireless procurement," stated John Perri, Comview CEO. "We saw strong demand for a quick and easy method for telecom staff to enter mobile device orders as a complement, or replacement, for our employee-facing self-service procurement portal."
About Comview Corporation
Comview provides fully integrated Telecom Expense Management (TEM), Wireless Mobility Management (WMM) and Call Accounting solutions backed by industry-leading customer service. The company's cloud-based, unified software suite allows companies to easily manage all telecom usage and assets from a single intuitive interface, including: Invoice Management, Wireless Management (with BYOD and MDM integration), Audit & Optimization, Call Accounting, IT Asset Management, Procurement and more. A managed service/BPO approach and "customer for life" philosophy provides customers with the highest level of service and support and sustainable ROI. Comview's services are used by major organizations throughout the U.S. and abroad. For additional information, visit Comview at http://www.comviewcorp.com.