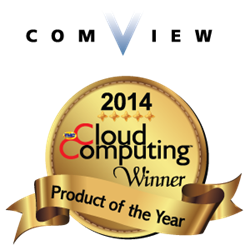 Nearly two decades ago we set out to address the inefficient and labor-intensive manual processes that most organizations used to manage their telecommunications by developing the first integrated suite of cloud-based telecom management tools and services
Huntington Station, NY (PRWEB) December 16, 2014
Comview, a pioneer and provider of telecom expense management (TEM), wireless mobility management and call accounting software and services, announced today that its integrated telecom management platform has been selected as a 2014 Cloud Computing Product of the Year Award winner by TMC, a global integrated media company.
The Cloud Computing Product of the Year Award, presented by Cloud Computing magazine, honors vendors with the most innovative, useful, and beneficial cloud products and services that have been brought to market in the past year.
Comview's telecom management platform harnesses the power of the cloud to automate the collection of carrier data and intelligently combine it with corporate information from HR, general ledger and accounts payable and even mobile device management (MDM), to provide a living inventory of locations, departments, users and devices, presented in a secure, online portal. This gives enterprises the tools, reports and services to consolidate invoices from disparate telecom providers, identify opportunities for savings (up to 30%), manage usage, and achieve greater access, insight and control over all their fixed and mobile (including BYOD) expenses and assets.
"Nearly two decades ago we set out to address the inefficient and labor-intensive manual processes that most organizations used to manage their telecommunications by developing the first integrated suite of cloud-based telecom management tools and services," shared Comview CEO, John Perri, "We are pleased that TMC has recognized our innovation with this year's Cloud Computing Product of the Year Award."
Comview's cloud platform has continuously evolved to meet customer needs in an ever-changing telecom landscape, including this year's enhanced two-way integration with AirWatch MDM for simplified enterprise-wide mobile security and control, and e-bonding with Verizon Wireless for more efficient mobile procurement.
"Recognizing leaders in the advancement of cloud computing, TMC is proud to announce Comview's Total Talk – Integrated Telecom Management as a recipient of the Cloud Computing Product of the Year Award," said Rich Tehrani, CEO, TMC. "Comview is being honored for their achievement in bringing innovation and excellence to the market, while leveraging the latest technology trends."
About Comview Corporation
Comview provides fully integrated Telecom Expense Management (TEM), Wireless Mobility Management (WMM) and Call Accounting solutions backed by industry-leading customer service. The company's cloud-based, unified software suite allows companies to easily manage all telecom usage and assets from a single intuitive interface, including: Invoice Management, Wireless Management (with BYOD and MDM integration), Audit & Optimization, Call Accounting, IT Asset Management, Procurement and more. A managed service/BPO approach and "customer for life" philosophy provides customers with the highest level of service and support and sustainable ROI. Comview's services are used by major organizations throughout the U.S. and abroad. For additional information, visit Comview at http://www.comviewcorp.com.
About TMC
TMC is a global, integrated media company that supports clients' goals by building communities in print, online, and face to face. TMC publishes multiple magazines including Cloud Computing, M2M Evolution, Customer, and Internet Telephony. TMCnet is the leading source of news and articles for the communications and technology industries, and is read by as many as 1.5 million unique visitors monthly. TMC produces a variety of trade events, including ITEXPO, the world's leading business technology event. For more information about TMC, visit http://www.tmcnet.com.
###