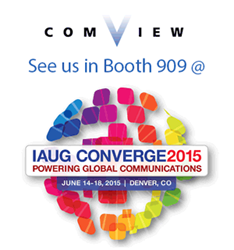 We look forward to connecting with many existing customers and other Avaya users again this year
Huntington Station, NY (PRWEB) June 01, 2015
Comview announced today that it will be participating again in this year's International Avaya Users Group (IAUG) conference. CONVERGE2015 will take place from June 14 to 18 at the Colorado Convention Center in Denver, where attendees can find Comview in Expo Hall booth 909 showing off the latest in integrated, switch-agnostic call accounting and fixed/mobile integrated telecom expense management (TEM) solutions.
IAUG promotes the conference as a comprehensive program around integration, managed services, cost management, BYOD, cloud and more. The topic and audience are a natural fit for Comview who provides cloud-based fixed and wireless telecom management software and customer-centric services that help enterprises save money, improve processes and gain valuable insight on all voice, data, corporate mobile and BYOD usage.
"We've exhibited at IAUG for the last 10 years. We look forward to connecting with many existing customers and other Avaya users again this year," shared John Perri, Founder and CEO of Comview, "Attendees we speak with are always impressed with our integrated fixed and mobile telecom management suite that works with any number of carriers, PBXs and/or VoIP platforms."
Conference attendees are encouraged to visit Comview in booth 909 for a demonstration, or to discuss their telecom expense management and call accounting needs.
About Comview Corporation
Comview provides fully integrated telecom expense management (TEM), wireless mobility management (WMM) and call accounting solutions, backed by industry-leading customer service. The company's cloud-based, unified software suite allows companies to easily manage all telecom usage and assets from a single intuitive interface, including: Invoice Management, Wireless Management (with BYOD and MDM integration), Audit & Optimization, Call Accounting, IT Asset Management, Procurement and more. A managed service/BPO approach and "customer for life" philosophy provides customers with the highest level of service and support and sustainable ROI. Comview's services are used by major organizations throughout the U.S. and abroad. For additional information, visit Comview at http://www.comviewcorp.com.