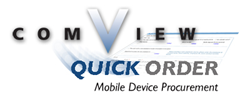 Using Quick Order through the Comview Portal has increased efficiencies on not just the order processing, but on inventory, follow up and history.
Huntington Station, NY (PRWEB) January 12, 2016
Comview Corporation announced today that it recently processed the 10,000th Quick Order transaction for one of its largest enterprise customers in the healthcare space. Quick Order was first announced in July of 2014 to provide a streamlined way for authorized wireless administrators to submit new mobile device orders or upgrades for their organization.
With more than 20,000 mobile devices under management across more than a thousand locations, timely and accurate order management is a must for the customer. Quick Order provides their telecom administrators with a single screen that contains everything they need to quickly place orders from an approved service catalog of mobile devices, plans, features and accessories. Known information is pre-populated along with any prior order history and upgrade eligibility (including buddy upgrade and waiver options), so orders can be placed in less than a minute with greater accuracy than orders placed through carrier portals taking 5 to 10 times as long.
For the more than 500 orders presently being submitted each month, the process improvements realized by Quick Order save the enterprise weeks of manpower each month that are reallocated to higher value activities. And with more than 90% of these transactions automatically fulfilled on the back-end through Comview's Verizon e- bonding interface, order speed and accuracy are optimized while the customer gains immediate feedback on order status.
According to the customer's mobility supervisor, "Using Quick Order through the Comview Portal has increased efficiencies on not just the order processing, but on inventory, follow up and history. We have been able to process large orders through the portal, which has allowed us to track and complete large roll-outs with greater efficiency as well."
"Since introducing Quick Order a year and a half ago, as part of our managed mobility services, feedback has been tremendous," shared John Perri, Comview Founder and CEO. "We're continuing to listen and invest in making the feature even stronger with recent customer-requested additions like bulk ordering to further improve processes."
About Comview Corporation
Comview provides fully integrated Telecom Expense Managemen t (TEM), Wireless Mobility Managemen t (WMM) and Call Accounting solutions backed by industry-leading customer service. The company's cloud-based, unified software suite allows companies to easily manage all telecom usage and assets from a single intuitive interface, including: Invoice Management, Wireless Management (with BYOD and MDM integration), Audit & Optimization, Call Accounting, IT Asset Management, Procurement and more. A managed service/BPO approach and "customer for life" philosophy provides customers with the highest level of service and support and sustainable ROI. Comview's services are used by major organizations throughout the U.S. and abroad. For additional information, visit Comview at http://www.comviewcorp.com.