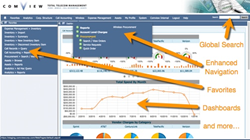 Blue Hill believes that drill-down business intelligence, global search, and more intuitive user interface continue to provide users with market-leading capabilities to extract insights from all of the telecom expense, inventory, and order data collected
HUNTINGTON STATION, NY and ORLANDO, FL (PRWEB) March 07, 2016
Comview announced today, at Enterprise Connect in Orlando, that it has released the latest version of its integrated fixed and mobile telecom expense management (TEM) solution. Version 5 simplifies enterprise communications lifecycle management (CLM) by providing easy access to actionable information through more powerful search and reporting, intuitive navigation, new dashboards and other enhancements – all backed by proactive managed services.
As a customer-focused organization, Comview constantly introduces new features and functionality to their cloud-based telecom management application as they are developed, rather than making clients wait for a major release. However, V5's new interface and capabilities significantly improve the user experience and business outcomes enough to earn the new version number. Among these are:

Intuitive interface redesign with logically grouped menus and hints
A "Favorites" feature to bookmark most used functions for quick access
Global Search to find system-wide information from one place
Dashboards provide a high-level graphical overview of key information for call accounting, wireless and expense management
In addition to hundreds of pre-configured, context-aware reports, new Ad Hoc Query gives administrators powerful access to visualize data
Enhanced Business Intelligence tools provide customizable, context-sensitive views of key data and trends
Expanded inventory, procurement and order management capabilities
"Comview has consistently provided high levels of function and utility for converged management of landline, network, and mobility assets and services," states Hyoun Park, Chief Research Officer at Blue Hill Research. "With Comview Version 5, Blue Hill believes that drill-down business intelligence, global search, and more intuitive user interface continue to provide users with market-leading capabilities to extract insights from all of the telecom expense, inventory, and order data collected within Comview's platform."
As always, Comview never charges customers extra for new features and upgrades. Unlimited training is also included in all engagements to help users get the most savings and control from the service.
V5 is provided to customers at no additional cost, just like all new features and upgrades from Comview. Unlimited training is always included to ensure users get the most savings and control from the service.
"Our loyal customers are everything to us! Their feedback and suggestions have always helped shape our platform and services," said John Perri, Comview Founder and CEO. "That is why we're so excited to provide them with the great new capabilities in our latest version. Feedback from early adopters and industry analysts has been extremely positive."
Comview can be found in booth 1642 at Enterprise Connect Orlando, March 7-9.
About Comview Corporation
Comview provides fully integrated Telecom Expense Management (TEM), Wireless Mobility Management (WMM) and Call Accounting solutions backed by industry-leading customer service. The company's cloud-based, unified software suite allows companies to easily manage all telecom usage and assets, throughout the communications lifecycle, from a single intuitive interface, including: Invoice Management, Wireless Management (with BYOD and MDM integration), Audit & Optimization, Call Accounting, IT Asset Management, Procurement and more. A managed service/BPO approach and "customer for life" philosophy provides customers with the highest level of service and support and sustainable ROI. Comview's services are used by major organizations throughout the U.S. and abroad. For additional information, visit Comview at http://www.comviewcorp.com.