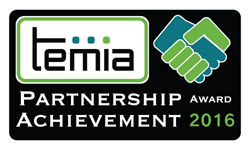 Comview has been a terrific partner to work with. Their experience in the industry and attention to detail has been a tremendous asset to us from a partnership perspective, and really shines through with the many satisfied customers they keep.
Huntington Station, NY (PRWEB) April 12, 2016
Comview announced today that the Technology Expense Management Industry Association (TEMIA), the authoritative voice for Technology and Telecom Expense Management and Solutions Providers in related areas, presented Comview and Ezwim with the 2016 Partnership Achievement Award at TEMIA's meeting in Orlando, Florida. This initiative is part of TEMIA's ongoing mission to raise industry standards, and promote the value of Technology and Telecommunications Expense Management.
The 2016 Partnership Achievement Award recognizes a TEMIA member company that has partnered with an alliance partner or competitor to achieve outstanding results related to technology and telecommunications expense management. Entrants were evaluated by peers for the significance of the initiative, strategic benefits achieved for the client, evidence of mutual co-operation and quality of the partnership.
Comview, a North American provider of integrated fixed/wireless telecom expense management solutions for the communications lifecycle, had long-term clients that wanted to expand services to include global mobility management. Even though Comview's platform already worked with international currencies, the team had to determine the most efficient way to acquire the necessary invoice feeds and local expertise for carriers in Europe, Asia and Latin America. While Comview's CEO was evaluating different options, he met with the CEO of Ezwim, a European-based TEM technology firm, at an annual TEMIA meeting. After doing their diligence, both parties concluded that Ezwim could provide Comview with global invoice processing and consulting services to efficiently serve customers while staying within the boundaries of the EU data privacy and security framework.
For the award, Comview submitted a case study of a US-based S&P 500 enterprise client who requested mobility management services for their worldwide locations when it came time to renew their successful global call accounting engagement. As a result of the partnership with Ezwim, Comview was able to accommodate their needs and yield immediate savings and productivity gains, such as an 18% reduction and a significant credit for billing errors from one European carrier.
"We partnered with Ezwim because we always put our customers' needs ahead of everything else," stated John Perri, Comview founder and CEO, "From the start, Ezwim was very responsive to our needs, working closely with my team to customize data feeds to our specifications and provide local expertise when needed. I'm happy to say several of our clients now have insight and control over their global wireless expenses for the first time."
"Comview has been a terrific partner to work with," adds Bram Cool, Ezwim's CEO. "Their experience in the industry and attention to detail has been a tremendous asset to us from a partnership perspective, and really shines through with the many satisfied clients they keep."
Joe Basili, TEMIA managing director, said, "While, TEMIA does not endorse specific members, the partnership between Comview and Ezwim shows how TEMIA members can come together to recognize the achievements of peers. The goal with this award is to promote the value of Technology and Telecommunications Expense Management; enterprise managed mobility services and related areas as something that every organization should have in place."
About Comview Corporation
Comview provides fully integrated Telecom Expense Management (TEM), Mobility Management and Call Accounting solutions backed by industry-leading customer service. The company's cloud-based, unified software suite allows companies to easily manage all telecom usage and assets, throughout the communications lifecycle, from a single intuitive interface, including: Invoice Management, Wireless Management (with BYOD and MDM integration), Audit & Optimization, Call Accounting, IT Asset Management, Procurement and more. A managed service/BPO approach and "customer for life" philosophy provides customers with the highest level of service and support and sustainable ROI. Comview's services are used by major organizations throughout the U.S. and abroad. For additional information, visit Comview at http://www.comviewcorp.com.
About Ezwim
Ezwim (http://www.ezwim.com) is a global leader in TEM technology. Ezwim offers a comprehensive portfolio of Telecom Expense Management applications via the internet (Software as a Service). With its TEM applications Ezwim helps companies, carriers, and TEM firms make their telecom costs fully transparent, to reduce these costs and increase efficiency of related processes. Involving employees, real-time information, Lean Telecom, the ISO 27001 certification and far-reaching self-service options are distinguishing factors for Ezwim. The flexible character of Ezwim's proven technology makes it ultimately suitable for all types of businesses; large, small, national and international. Since 2001, Ezwim has worked with satisfied clients all over the world.
About TEMIA
TEMIA's ongoing mission is to raise awareness, to improve the quality and value of solutions and to cultivate shared industry knowledge for Technology Expense Management, Telecommunications Management, Telecom Expense Management, TEM, Mobile Expense Management, Managed Mobility Solutions, MMS, Mobile Device Management MDM and Enterprise Mobility Management, EMM solutions. TEMIA seeks to do this through the development and promotion of open industry standards, and industry knowledge among solutions providers, business partners, telecom service providers, and enterprise clients. Further, TEMIA members subscribe to a Code of Ethics, which clearly establishes standards and differentiates their level of commitment to their clients.
Learn more about TEMIA online at http://www.temia.org For more information about TEMIA, visit http://www.temia.org.