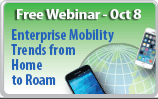 ...this informative webinar examines enterprise mobility within the organization and abroad
Huntington Station, NY and Atlanta, GA (PRWEB) September 10, 2014
Comview, a premier provider of integrated wireless mobility management, telecom expense management and call accounting, announced from AirWatch Connect that registration is now open for its next live webinar. "Enterprise Mobility Trends from Home to Roam" will take place at noon Eastern on October 8 to help organizations get a handle on how current wireless trends could affect them.
Few would argue that mobility has made its mark on the business world. For most enterprises it is not a question of whether to incorporate mobility into the workforce, but rather how to do so most effectively and securely. Understanding what is going on in the market and what other enterprises are doing is a great place to start.
Drawing upon the experience and insights of the industry experts at AOTMP and Comview, this informative webinar examines enterprise mobility within the organization and abroad. Topics to be covered include: how companies are actually managing BYOD, mobile device management, keeping roaming in check, and what evolving wireless carrier rate plans mean for enterprises, to name a few.
"In the process of helping customers manage their fixed and mobile telecom, we gain a lot of insight into what's happening in the wireless world, from BYOD usage and shifting rate plan models to international roaming technologies like Webbing," stated Comview CEO and founder, John Perri, "We figured enterprises could benefit from a similar vantage point. That's why we invited AOTMP to lead this informative webinar and share their industry knowledge on October 8."
Interested parties can register for the complimentary webcast at http://www.comviewcorp.com/to/mobility-management-webinar-14-prw or from the Comview website.
About Comview Corporation
Comview provides fully integrated Telecom Expense Management (TEM), Wireless Mobility Management (WMM) and Call Accounting solutions backed by industry-leading customer service. The company's cloud-based, unified software suite allows companies to easily manage all telecom usage and assets from a single intuitive interface, including: Invoice Management, Wireless Management (with BYOD and MDM integration), Audit & Optimization, Call Accounting, IT Asset Management, Procurement and more. A managed service/BPO approach and "customer for life" philosophy provides customers with the highest level of service and support and sustainable ROI. Comview's services are used by major organizations throughout the U.S. and abroad. For additional information, visit Comview at http://www.comviewcorp.com.