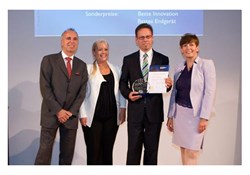 Salt Lake City, Utah (PRWEB) October 15, 2013
Beijer Electronics receives the Telematics Award for the best mobile data terminal at the IFA 2013 in Berlin. The IFA show is a world leading trade show for consumer electronics. As one of 12 category winners, the TREQ-VMx was up against a total of 87 applications and was awarded the Special Prize for the best mobile terminal.
The award was presented by the Telematics Market, a leading media group in the telematics industry. German sales manager Bernd Frank accepted the award on September 7, 2013 in Berlin. The award was presented by the head of jury, Professor Birgit Wilkes, of the technical college Wildau.
About Beijer Electronics
For over thirty years, Beijer Electronics has designed and manufactured human machine interface (HMI) products for industrial OEMs and vehicle systems integrators. Products include automation software, operator panels, industrial/panel PCs and environmentally-rugged QSI™ HMIs and TREQ® mobile data terminals.
Since its start-up in 1981, Beijer Electronics has evolved into a multinational group present in twenty-two countries. Beijer Electronics is listed on the NASDAQ OMX Nordic Exchange Stockholm's Small Cap list under the ticker BELE. For more information, contact Beijer Electronics, Inc. at 801-466-8770 or visit beijerinc.com.
###