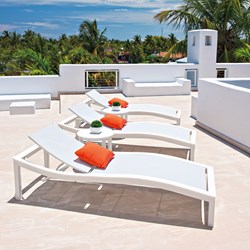 Telescope Casual continues to impress the casual furniture industry introducing 6 new collections for 2014
Chicago, IL (PRWEB) August 30, 2013
In staying current with the top manufacturers of the industry today, FurnitureForPatio.com has recently updated their online selection of high quality patio furniture to include the newest collections from Telescope Casual. Offering 6 collections in total, 4 of which feature the company's Marine Grade Polymer (MGP), Telescope's 2014 year continues the past tradition of developing highly durable, environmentally conscious products, while expanding their line to give consumers a greater choice when it comes to style/looks. Each collection focuses on a specific area of the outdoor living space such as dining or lounging, and across all six there are 3 different seating surface options featured: MGP, cushion, and sling.
Featuring seating for the patio lounge as well as dining area, St. Catherine expands upon Telescope Casual's line of MGP furniture with two collections: Sling and Cushion. The cushion collection is best suited for creating a living room or conversation area and the Sling version of St. Catherine offers standard and high-back seating options ideal for casual outdoor dining. Both collections also feature accessory ottoman for enhancing your comfort and St. Catherine Sling offers an adjustable chaise lounge great for poolside use, while St. Catherine Cushion promotes deep seat comfort with both a two-seat Loveseat and spacious 3-seat sofa. The Seating surface of these collections may differ but both showcase frames constructed from Marine Grade Polymer, promising your furniture will never rot, crack, or separate, and is crafted to showcase subtle curves that blend arms into legs for an appealing profile.
The other two new MGP collections from Telescope are very selective in their seating with Chandler MGP offering primarily bench seating for both commercial and residential applications, and the sleek contemporary styled Bazza Collection is noted for its modern new approach to the Chaise Lounge. Touted as the first "truly hybrid" collection from Telescope Casual, Bazza is comprised of a durable aluminum frame, Marine Grade Polymer accent/surface, and signature sling form fitted within the frame, and the collection includes stacking arm chair and (as mentioned) a new chaise lounge that is armless and features a contouring shape for maximum outdoor comfort. The Chandler MGP bench collection also utilizes an aluminum frame, but where Bazza uses MGP as accents, Chandler features it as the seating surface which gives the added benefit of having a seat that remains comfortable to the touch in both warmer and cooler temperatures.
Rounding out the new 2014 season is the Kendall Sling Collection, which continues the legacy of Telescope's combination signature sling and high quality aluminum framing, and the Ocala Cast Aluminum Collection, which takes the subtle elegance of 2013's Ocala Sling Collection and builds upon it for a high-class selection of seating that joins the likes of Telescope's Cadiz, Alfresco, and Festival Cast collections. The Ocala Cast collection features a contoured seat so comfort is a non-issue (no cushion required) and is a shining example of what can be achieved through the use of quality cast aluminum. This beautiful new addition to Telescope's cast line of furniture is also a highlight of the 2014 year as every single aspect of its construction from metal to finish, is made entirely in the USA.
The 6 new 2014 collections as well as those offered from the 2013 catalog are available for viewing and purchasing directly from http://www.furnitureforpatio.com, and with the use of the company's easy click and choose drop down menus you can customize these new products to best match your patio space. Most Telescope Casual furniture is backed by a 15 year residential warranty and 5 year contract warranty, and when you order with Furniture For Patio your furniture includes free shipping.