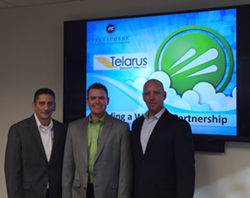 Phoenix, AZ (PRWEB) December 05, 2013
Telesphere, a leading provider of cloud-based unified-communications-as-a-service (UCaaS), today announced that one of the largest master agents in the nation, Telarus, will now market Telesphere's hosted solutions for voice, data, video and other managed services through its extensive network of agents and sub-agents throughout the United States.
Under this agreement, Telarus partners now have access to Telesphere's sophisticated portfolio of enterprise-level, cloud-based services including VoIP, videoconferencing, internet connectivity, WAN management and contact center solutions. Telesphere's cloud-based services allow businesses of any size to enjoy all the latest voice, video, data, mobility and collaboration features of large enterprise systems with minimal out-of-pocket costs. The company's team of dedicated indirect channel managers and network engineers will support Telarus agents and partners to enable fast provisioning and consistently deliver high-quality end user experience and customer satisfaction.
"We're excited to partner with Telarus and their family of sub-agents to help bring our products and services to the Telarus national base of enterprise customers. We have always had deep admiration for Telarus and their standing as one of the preeminent leaders in the telecom distribution industry. Telesphere's expansive and cutting-edge solutions, coupled with Telarus' strength in the sales channel, will be a win-win for all," said Telesphere's Director of Indirect Channel Skyler Stewart.
"Enterprise businesses are moving their communications services to the cloud for security and mobility, as well as redundancy and collaboration. Telesphere has led the field with its full slate of innovative hosted solutions," said Telarus' Vice President of Business Development Lanny Gray. "Telesphere's suite of solutions will be an outstanding addition to our portfolio and will provide our partners with a superior, high quality UCaaS option for their clients."
Over the past decade, many master agents and their sub-agents have attempted to shift their customers to communications services hosted by a third party, only to find that their partners were unable to provide the level of engineering support, sales support and quality of service that those customers demand. Telesphere enables its master agents and sub-agents to meet those expectations by providing:
A network with more points of presence than any other national provider of its kind in addition to a fully managed, private IP MPLS network -- the largest in the nation –thatoffers private SIP trunking, managed firewalls, carrier-grade performance for wireline and mobile convergence.
24/7 live support from two geographically diverse U.S. locations to enable an immediate response to end users.
Comprehensive, hands-on engineering and sales support, including a Web portal where master agents and their sub-agents can get circuit quotes quickly – often instantly – to build proposals, validate geographic capabilities, check customer tickets and project milestones.
More than a decade of experience serving the enterprise market, with a churn rate of less than 1 percent and an average customer life of more than eight years.
About Telesphere
Telesphere, based in Phoenix, Ariz., is a leading provider of hosted cloud communications nationwide. It offers carrier-grade performance and support for wireline and mobile convergence to businesses over its private IP MPLS network; one of the largest in the nation. Telesphere's cloud-based services allow businesses of any size to enjoy all the latest voice, video, data, mobility and collaboration features of large enterprise systems without the costly investment of on-site equipment. Telesphere has been nationally recognized for the third consecutive year as one of the fastest growing companies by the Inc. 500/5000 list, recognized as one of the Fastest Growing Companies in North America on Deloitte's 2013 Technology Fast 500™ along with being named by CareerBuilder, the Arizona Republic, and Top Companies AZ, as one of the best companies to work for in Arizona. For moreinformation on Telesphere please visit: http://www.telarus.com/carrier-information/telesphere.html
About Telarus
Telarus, Inc., a value added distributor that holds contracts with the world's leading commercial telecommunication carriers, makes it easier and more profitable for solution providers, VARs, and MSPs to sell and source voice and data WAN solutions. Our patented GeoQuote platform combines real-time carrier pricing with advanced research features and branded proposals. Telarus' experienced Sales staff is strategically focused on enterprise WAN and high-capacity bandwidth solutions, making it easier to find the best offer, every time. For its part, Telarus has been named the top Master Agent by the members of the Telecom Association in each of the past three years, the first and only company in the carrier channel to accomplish this feat. Whether you are a top producer or a voice-and-data expert just starting out on your own, there is a place for you in the Telarus community. For more information on the Telarus partner program, please visit http://www.telarus.com or call the new partner hotline at 877-346-3232.