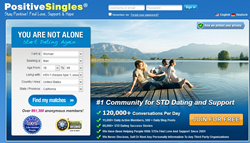 Los Angeles California (PRWEB) March 21, 2015
On March 18, PositiveSingles.com, a number 1 STD dating site for people who have herpes, HIV/AIDS or other STDs to find their match or make friends, revealed the result of a discussion "Should I Tell My Ex's New Partner They Have STI?". One member shared his story:
"I was involved with an ex GF for two years. She has an STI (H2). She is out there sleeping with guys and having unprotected sex with them. (She told me so) I'm so tempted to inform these poor men about her STI - but should I? Something tells me people will say I should keep my mouth closed - but what would you want if you were being placed at risk?"
Nearly 60% of participants on this herpes dating site said "No" when they were asked whether they should tell their ex's new partner they have STI. The other 40% thought they would tell their ex's partner and stop their ex from spreading the disease to innocent people.
People who said "No" had their own worries. They were afraid that telling their ex's new partner may cause violence to erupt. Possibly, their ex may go around and maliciously tell everyone that they have STI too. This could affect their own personal and work relationships. If they are not with their ex anymore, there is no reason to tell their ex's new partner about their circumstances. Both they and their ex need to be responsible for their own actions and life. It's their ex's responsibility to tell his/her own partner the truth. Also people should be careful and have safe sex when they're not sure whether their partner has STI or not.
Other people hold a very different opinion. They believe in and respect privacy but, when it comes to STI, they should tell the innocent people and stop their partner spreading the disease, and banish some poor guy to a life of infection and awkward conversations. One member said if someone would have told her, she wouldn't have STI. It's the right thing to do even if it is hard.
Anyone who is living with STI can find support in PositiveSingles.com: http://www.positivesingles.com