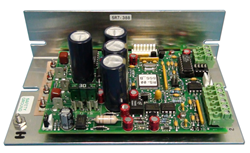 Oven Industries supplies custom temperature controllers and sensors that serve an array of clients.
Mechanicsburg, PA (PRWEB) May 26, 2014
Model 5R7-388 RoHS Compliant controller is a bi-directional control for independent thermoelectric modules or in conjunction with auxiliary or supplemental resistive heaters for both cooling and heating applications. The "H" bridge configuration of the solid state MOSFET output devices allows for the bi-directional flow of current through the thermoelectric modules. Highly efficient N-channel output devices are used for this control mode.
This controller is PC programmable via an RS232 communication port for direct interface with a compatible PC. The easily accessible communications link permits a variety of operational mode configurations. Field selectable parameters or data acquisition in a half duplex mode can be performed. This controller will accept a communications cable length in accordance with RS232 interface speciations. Once the desired set parameters are established, the PC may be disconnected and Model 5R7-388 becomes a unique, stand alone controller. All parameter settings are retained in non-volatile memory.
Features

Full H-Bridge
36VDC Output using split supply
P,I,D or On/Off Control
PC Configurable Alarm Circuit
RS232 Communication Port
"T" Thermocouple -328°F - 500°F
Accessories
Display Model 5R6-576: 4 digit temperature read out
Heat Sink recommended for applications using 15A load or greater
Oven Industries supplies custom temperature controllers and sensors that serve an array of clients, from aerospace, automotive, biomedical, defense markets, medical and semiconductor.
Oven Industries, Inc. was founded in 1964 and specializes in the development of custom industrial temperature controllers and sensors. Oven Industries also carries a full line of standard products, purchasable online, including temperature controllers and sensors, power supplies, heat sinks, thermistors and thermocouples. With a superior design engineering staff and complete production facilities, the company has become a leading electronic temperature sensing device manufacturer.
For more information about the 5R7-388 controller, visit http://www.ovenind.com/bv/Products/Temperature-Controller-5R7-388__5R7-388.aspx.
Media Contact
Rose Wescott
717-766-0721
r.wescott(at)ovenind(dot)com