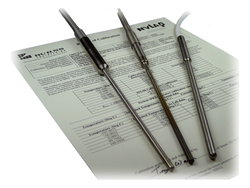 Quick-turn temperature calibrations designed to keep labs running smoothly
Minnetonka, MN (PRWEB) March 02, 2015
Burns Engineering's Lab-to-Lab Calibration Service offers accredited temperature calibration for Secondary Standard Platinum Resistance Thermometers (SSPRTs) and industrial Resistance Temperature Detectors (RTDs) in 5 business days or less . . . guaranteed. Their metrology lab is NVLAP® Accredited (Lab Code 200706-0), ISO 9001 and 17025 Certified and provides complete NIST traceability. Temperature range is -196°C to 500°C, both ITS-90 and Callendar-van Dusen calibrations are available, and sensors and systems (sensor and meter) calibrations are offered.
Unique to Burns is a "Our Promise" guarantee which promises to have instruments returning within 5 business days or they will take $100 off the cost of calibration.
In addition, Burns manufactures Secondary Standard PRTs for use in metrology labs around the world. Their latest instrument offering is the model 12005.
Since 1960, Burns Engineering has been an industry leader in the design and manufacture of temperature measurement products for the Process, OEM and Metrology industries. Products include RTDs, Secondary SPRTs, Thermocouples, Thermowells, Transmitters and NVLAP® Accredited Calibrations (Lab Code 200706-0). Burns is an ISO 9001 Registered company. Learn more about Burns Engineering at http://www.burnsengineering.com or contact directly at 800-328-3871.