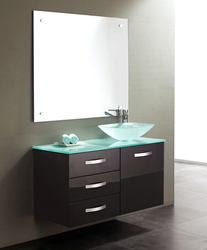 Unlike stone, tempered glass is totally nonporous, which means it won't stain, doesn't need to be sealed, and can be cleaned with nothing more than a damp cloth.
(PRWEB) February 14, 2014
HomeThangs.com – the Online Home Improvement Store has made their goal to deliver the right product to the consumer. With that in mind, shopping and home design tips, as well as special product selections are being introduced.
There are a lot of ways to get a sleek, modern look in a bathroom, but one of the easiest is to choose a bathroom vanity with a tempered glass vanity top. These are totally unique, instantly eye catching, and are absolutely gorgeous and elegant looking. HomeThangs.com has introduced a guide to using them to make a major statement in a modern bathroom.
Stone vanity tops have become something of a default luxury option for a bathroom: if there's room in the budget, most homeowners will upgrade to granite or marble if it's available. But the growing ubiquity of stone vanity tops has made them less of an outstanding feature. Tempered glass vanity tops, on the other hand, have a built-in wow factor that comes with being a little less common.
Because granite and marble have been so popular for so many years, many manufacturers have begun buying high quality stone in bulk, cutting it, and packaging it with their bathroom vanities. But while this significantly reduces costs for consumers, making stone more accessible to more homeowners, it's still almost always more expensive than glass vanity tops of the same size and shape. Even though tempered glass undergoes extensive treatment to make it more resistant to breakage, it's still a man made good rather than a natural one, which means it will be less expensive and of a more consistent quality.
While many homeowners covet luxurious stone vanity tops, they're often in for a bad surprise when they actually get them. Stone – especially marble – can be notoriously fussy. It's a porous natural material, which means it needs to be carefully sealed to prevent stains or other discoloration or damage. Tempered glass, on the other hand, is totally nonporous, which means it won't stain, mold, or mildew, it doesn't need to be sealed, and can be cleaned with nothing more than a damp cloth. Unlike stone, which often has a matte finish, tempered glass vanity tops always have a high gloss finish, which is perfect for a very chic modern bathroom.
Often, tempered glass vanity tops include built in sinks – that is, the sink or sinks and countertop are made out of a single piece of glass. Sometimes this sheet of glass is raised up above the surface of the vanity, offering glimpses through the glass from the top and sides. The effect is striking, especially since conventional sinks generally sit entirely beneath the counter, but glass sinks are entirely visible, as is the water inside.
Tempered glass vanity tops are available in a variety of colors, as the glass can easily be tinted to take on just about any color or even a pattern. That said, black and white are among the more common options, and more often than not the glass is left clear or simply frosted. Clear tempered glass has a slight aqua tint that's most noticeable along the edges, and may be more blue or more green depending on the manufacturer. If the counter isn't lifted up from the top of the vanity, it's likely that the glass will be frosted, giving the whole sheet a pale, icy blue-green color that's a little more opaque.
It's important to note, though, that while glass vanity tops are easy to clean, they aren't necessarily easy to keep clean – like stainless steel or shower doors, they're prone to showing fingerprints and water marks, so they will require some upkeep. Also, it's important to be aware that while tempered glass is more durable than the average drinking glass and specifically designed not to break into large, dangerous chunks, they are still made of glass and can chip or crack if hit too hard or at the wrong angle – especially on the edges. So while this is a great option for a posh modern master bathroom, it might not be the best choice for a kid's bathroom.
To find out more about tempered glass vanity tops, check out the full article here.
HomeThangs.com is not only a home improvement superstore, it also provides expert design tips and a comprehensive shopping guide, taking the ideas from professional interior designers, and offering tips to the consumers on how to pick the products to best suit their needs.