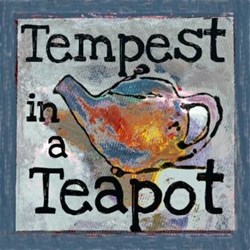 Life Is Too Short To Wear Boring Jewelry.
Point Pleasant, NJ (PRWEB) September 05, 2013
Tempest In A Teapot, creators of re-purposed custom silver jewelry, chimes, and handmade gifts, launches a new line of unique accessories by in-house artist Erin Coughlin.
Fashionable consumers nowadays are always looking for jewelry, gifts, and home accessories that are unique and speak the emotions and attitude of the wearer or the home in which it is displayed. The mass-produced chain store ring, necklace, or table decoration or hanging, while it might be a convenient substitute, is never quite perfect. And we all know that re-gifting is popular in today's culture. While one may not want to recycle a gift, if the item does not speak to you, why hold onto it?
Introducing Tempest in a Teapot and their new in-house artist Erin Coughlin
Tempest in a Teapot goes out of their way to search flea markets and auctions for vintage treasures, such as silver flatware, sugar bowls, creamers, teapots, etc. that can be re-purposed/up-cycled into wind chimes, rings, necklaces, and an array of other wearable or decorative accessories. Erin Coughlin is a wire wrapping artist and jewelry maker who also studies these new found treasures and puts her artistry to work to enhance the new piece. The result is a one-of-a-kind gift item that tells a person's or family's unique past history and breathes life into a possibly untold story. The thought of re-gifting will no longer cross your mind. But best of all, your Tempest in a Teapot and Erin Coughlin creation will be one of a kind!
ABOUT TEMPEST IN A TEAPOT
Tempest in a Teapot is a studio for handmade, re-purposed, silver plate jewelry and chimes. They welcome custom requests to be made from recycled family heirlooms, silver flatware and treasures. Go to their store in Point Pleasant, NJ or visit them online for home accessories and gifts made in the U.S.A.
Tempest In A Teapot ships domestic U.S.A. and Worldwide. Our studio can be reached directly at +1.732.701.3165. All media inquiries please contact Clear Media Group at +1.732.272.3477.