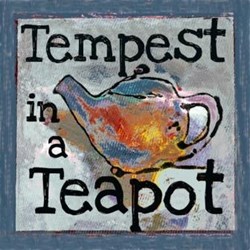 Life's Too Short To Wear Boring Jewelry!
Point Pleasant, New Jersey (PRWEB) October 02, 2013
You know how people go around picking up pennies that are "heads up" and then give them away for good luck? Well, that's what happened with a recent client of Tempest In A Teapot, creators of repurposed handmade silver jewelry and chimes. A friend gave her 3 good luck pennies, couple of days go by, and the friend receiving the pennies gets word of her dear friend's tragic death in a motorcycle accident. The 3 pennies are the last tangible gift she has from her close companion.
What was the meaning behind the gesture? Only the receiver really knows and she wants to keep that moment alive. Thanks to Tempest In A Teapot, those 3 pennies will remain a constant reminder of that friend's affection.
"Telling stories from human events is what we are all about," says Tempest In A Teapot owners Elsa Mikus and Barbara Ryan. They continue, "We take family heirlooms and treasures passed down through generations that have been hidden up in attics and buried in basements for years and we turn them into amazing jewelry creations, chimes, and other decorations. Breathing new life into historic and recent individual and family moments brings us great joy and is a big reason we started Tempest In A Teapot."
Many times an item passed down through the generations can be wrapped or boxed up and stored away in a safe place for years with the owner's good intentions of displaying the piece when the time is right. Most often that time never comes. But whether one has their original baby spoon, their great-grandmother's silver tea serving set, a best friend's watch, or an uncle's lucky coin, Tempest In A Teapot can re-create the handmade gift piece so it is fashionable around one's neck, wrist, waist, a wind chime, or as a centerpiece for the next family holiday; all the while in plain sight for the present generations to tell stories and pass down memories of their friends and loved ones.
Recently, a customer called Tempest In A Teapot requesting they create three special chimes to celebrate a daughter's wedding day. The mother wanted one for the bride, one for herself and one for her granddaughter who was the flower girl. The mother made an appointment to meet Elsa and Barbara to deliver the family mementos that she wanted included in the chimes. Among the treasures were family silverware, watches, pins, earrings and other costume jewelry from the bride's grandmother, and other assorted tokens gathered over the years. One piece in particular the mother's grandmother wore all the time was a pin made back in the 40's by an uncle. The customer didn't really like the pin, but wanted it included on her chime just because her mother loved it. She also provided her mother and father's gold wedding bands to be included on her chime.
"The customer left the chime design itself up to us," said Mikus, but asked that all of the chimes have a watch and then distribute the other pieces between the three chimes." Ryan continued, "All items were treated with respect and not damaged in anyway. All items were attached to the chimes with the utmost care so that they could be removed if so desired. The resulting chimes were three of the most spectacular family heirlooms that we have ever created."
ABOUT TEMPEST IN A TEAPOT
Tempest in a Teapot is a studio and gift store for handmade gifts, re-purposed, silver plate jewelry and chimes. They welcome custom requests to be made from recycled family heirlooms, silver flatware and treasures. Go to their store in Point Pleasant, NJ for home accessories and gifts made in the U.S.A or visit them online to see samples of their handcrafted work.
Tempest In A Teapot ships domestic U.S.A. and Worldwide. Our studio can be reached directly at +1.732.701.3165. All media inquiries please contact Clear Media Group at +1.732.272.3477.