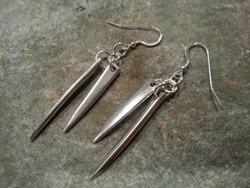 Don't forget to shop small businesses this Black Friday thru Cyber Monday!
Point Pleasant, New Jersey (PRWEB) November 22, 2013
Custom handmade silver jewelry, chimes, and gifts from Tempest In A Teapot are hot this holiday season for "Shop Small Retail Store" campaigns, now through December.
Nowhere else in the world celebrates the American holiday of Thanksgiving. This Thanksgiving, Tempest In A Teapot encourages shoppers to purchase holiday gifts from a seller that specializes in handmade and handcrafted goods made in the U.S.A.
Soon consumers around the country will be sitting down to that amazing American tradition of Thanksgiving dinner with that special someone, or perhaps a couple of dozen family and friends. Nonetheless, the topic of conversation will most likely be about watching the kids grow up so fast, work, and health. Perhaps dinner attendees will even breech the taboo subject of politics – BUT – for sure the one subject that will definitely come up will be the yearly question, "Who's ready for the holidays?"
By the time this article hits the web, the majority of consumers will most likely already have viewed the holiday commercials on TV and viewed local business storefronts all dressed with lights and glitter; yes, in some way many will have already experienced the Christmas (Holiday) creep. Each year the start of the selling season is earlier and earlier in the calendar, with retail stores staying open longer and offering amazing deals to get the consumer to come in earlier and spend.
In a way, Tempest In A Teapot does not differ from other retail businesses, in the sense where "increased holiday sales" makes it easier to pay expenses. Being a local business in a small town gives Tempest In A Teapot the opportunity to do things a bit differently than the majority of big chain, retail stores at the shopping mall. When one shops at Tempest In A Teapot and other small local businesses, the consumer will most likely get the local shop owner and family member providing customer service. This equates to expertise with the product one is purchasing. Consumers receive an honest, one-to-one relationship which goes beyond the sale. The item purchased has validity, the transaction is warm and friendly, and the future relationship between client and business owner will most likely exist far into the future. Yes, there is something about going to a place where everybody knows their customers that makes all the difference in the shopping experience.
The team at Tempest In A Teapot is asking people to consider shopping locally and at small businesses this holiday season for a positive gift purchasing experience.
About Tempest in a Teapot
Tempest in a Teapot is a studio and gift store that specializes in chimes and jewelry handmade from re-purposed, upcycled silver plate jewelry and chimes. They also carry a wide selection of handmade American craft to choose from in their online shop or in-store, ranging from original mouth-blown glass creations to local New Jersey art, custom tie-dye clothing and one-of-a-kind original handmade jewelry. The owners at Tempest in a Teapot welcome custom requests to be made from personal family heirlooms, silver flatware and treasures. Visit their store in Point Pleasant, NJ for home accessories and gifts made in the U.S.A or visit them online http://www.tempestinateapot.net to see samples of their work.
Tempest in a Teapot ships worldwide. Our studio can be reached directly at +1.732.701.3165. All media inquiries please contact Clear Media Group at +1.732.272.3477
http://www.tempestinateapot.net #shopsmall #smallbusinesssaturday