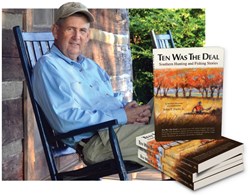 "Ten Was The Deal": Southern Hunting and Fishing Stories should be a fixture in every hunting and fishing lodge across America, and library of every sportsman. – Dr. Kirk H. Neely
Spartanburg, SC (PRWEB) October 25, 2013
More than a book of stories about hunting and fishing, "Ten Was The Deal" is about coming of age in the South. Set in pine woods, along Piedmont streams, in Lowcountry fields, or along the coast of the Carolinas, "Ten Was The Deal" reveals a boy's journey to manhood through stories such as: turkey hunting with a grandfather, duck hunting with a dad, and sharing his first kiss with a fishing buddy.
Packed with Southern charm, down-home humor and sprinkled with rustic pencil drawings by Southern Living illustrator Ralph A. Mark, Jr., "Ten Was The Deal" is definitely a keeper. This book also discloses the secret recipe for the best dang lard in Laurens County, and how duck hunting can lead to a good grade in French class. Plus, you will learn the untold story behind the sage advice that big possums walk late. Throughout his writings, author John P. Faris, Jr. offers all the enchantment of yarns spun while sitting on the tailgate of a pickup truck; all the lore of tales told around a campfire.
The author has had two books signings in South Carolina at Laurens and Spartanburg locations October 11th and October 18th respectively.
The new website OutdoorStories.com invites visitors to read the author's interview or excerpts from his book. The website's gallery showcases the author's photos he has taken of destinations world-wide. Although the author's hobby is photography, he possesses the innate ability to capture the essence of his favorite subjects: nature, wildlife and landscapes.
To learn more about the author and his new book "Ten Was The Deal", please visit OutdoorStories.com. Hardback versions of the book can be purchased directly through the publisher, Dog Ear Publishing. Paperback versions can be ordered from Amazon and Barnes & Noble. All proceeds from the sale of this book will be donated to The Encouraging Word.
About the Author and Book
Author John Faris Jr. is a native of South Carolina, a Southern storyteller and an avid outdoorsman. He was reared in Laurens, a small town in South Carolina in the 1950s and 60s, and now resides in Spartanburg, SC. His passion since childhood has been hunting and fishing. John's first book "Ten Was The Deal" was published September 5, 2013, and is more than a book of stories about hunting and fishing. "Ten Was The Deal" should be a fixture in every hunting and fishing lodge across America, and library of every sportsman.