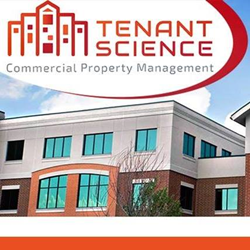 DECATUR, Ga. (PRWEB) August 06, 2019
Tenant Science, an Atlanta-based real estate brokerage firm, proudly announces its partnership with Mrs. Monica Fenderson, the founder and owner of Mosa Design Studios, a full-service architectural design firm. Marc Glasser, the CEO of Tenant Science and a 20 year veteran in the commercial property management sector is committed to giving a helping hand to investors that want to grow their portfolios from the acquisition of the property to value building management and finally to the sale. Tenant Science is committed to being a resource for Atlanta commercial landlords and multi-tenant property investors.
"We believe this expansion is only logical as we want to deliver returns and greater results to our clients. With low vacancies and demand outpacing supply, the commercial real estate development sector continues to be one of the strongest. Considering how consequential this sector is, MOSA Design Studios is adamant on continuing the firm's development within the commercial real estate market and satisfying client needs throughout the market cycle," says Mrs. Fenderson.
An architect by training, Mrs. Fenderson has endeavored tirelessly to broaden her knowledge and comprehension of the commercial real estate market. Likewise, Mrs. Fenderson has very recently graduated from The Real Estate Associate Program. "REAP is an industry-backed, market-driven program that educates graduates on the essential real estate functions of the macroeconomic environment and the commercial real estate supply." Moreover, REAP additionally serves as the "most successful diversity initiative in the commercial real estate industry." While Mrs. Fenderson is 1 out of the 452 African-American women who are architects, she is now also part of the management-level demographic within the commercial real estate industry. As the management-level of this industry has less than 1,000 persons of color out of 125,000 professionals, Mrs. Fenderson is a qualified anomaly.
At Tenant Science, they fully understand that potential customers need superior quality in Atlanta commercial property management services. They focus on the tenant generation, offer low fees, and they commit to regularly physically inspect their tenant properties, as well as promising to quickly respond to the customers' messages and inquiries. These are the reasons that set Tenant Science apart from other property management companies in Atlanta.
Commercial property owners in Atlanta understand how important it is to constantly monitor their real estate investment. For many, trusting someone else to deal with the ongoing management of their property is not a small decision to make. From finding the right tenants for the space to keeping on top of maintenance, billing, and even evictions, the property managers will be required to have the proper combination of expertise, experience, and commitment to the job. The team working at Tenant Science has the goal to offer the most amazing management experience for their customers. Unlike other bigger players that work in this field that might treat customers just like a number in the crowd, the professionals working for Tenant Science will strive to offer personalized service to every customer in order to help them meet their financial goals.
The team behind Tenant Science is formed only by professional and friendly persons that are fully trained in commercial systems. They promise to offer only excellent customer services, and they are experts in assisting customers in developing a customized property management plan that will meet their exact requirements.
At Tenant Science, customers will be pleased to find a very people and client-focused environment. Customers will enjoy countless benefits if they decide to work with them. Firstly, as leaders in the field, they understand the Atlanta commercial real estate sector like no one else. Secondly, they have a modern and user-friendly website that can help their tenants to easily pay their rent online and owners can check in on all updated activities and accounting related to the property.
This team of professional Atlanta-based commercial real estate brokers has already assisted many investors and customers in purchasing optimizing and selling commercial buildings. Their expertise lies in managing a wide portfolio of tenants. To this end, the experts of Tenant Science have built a valuable asset as trusted advisors, and they are proud by their stellar reputation gained in the Atlanta property management sector.
The over the top and amazing customer service, integrity, professionalism, and the passion for everything they do are the cornerstone behind Tenant Science. Their ultimate goal is to create a professional relationship that will last as long as possible with their valued customers based on the values of exceptional property management in Atlanta.
Media Contact:
Address: 4153 Flat Shoals Pkwy, Suite 320 Decatur, GA 30034
Phone: 404-692-0000
Website: https://tenantscience.com/
Facebook: https://www.facebook.com/TenantScienceAtlanta/
Email: mglaser@topcommercialbroker.com