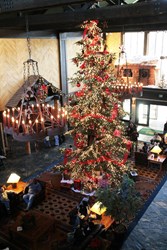 Dreaming of warm gingerbread, the scent of fresh pine, crisp mountain air and crackling fires this holiday season?
Fish Camp, California (PRWEB) September 12, 2013
Dreaming of warm gingerbread, the scent of fresh pine, crisp mountain air and crackling fires this holiday season? Look no further than Tenaya Lodge at Yosemite, a Four Diamond mountain retreat tucked in the Southern Yosemite Sierra, waiting for you and your family to come home for the holidays.
The holiday season is an annual treat at the four-season Tenaya Lodge resort located two miles from Yosemite National Park's South Gate. This year, Tenaya has gone above and beyond to create magical holiday memories for all ages.
The winter fun begins Thanksgiving week with the season opening of the popular Tenaya Lodge Ice Skating Rink on Nov. 27. Get a head start on the mistletoe season by taking advantage of the S'more Ice Skating package that includes ice skating sessions and rentals for two as well as a S'mores kit to be enjoyed in the warm glow of an open fire beginning Nov. 27, starting at $185 per night.
Reservations are now available for the lavish Tenaya Grand Ballroom Thanksgiving Buffet Nov. 28 from 11:30 a.m. to 6:30 p.m. featuring live entertainment and festive decór. The Sierra and Embers restaurants have created special dinner menus as well designed to reward every palate with a savory Thanksgiving meal.
The Thanksgiving week fun continues Nov. 29 with the crowd-pleasing Gingerbread House Decorating Workshop. Complimentary holiday beverages and cookies will flow the evening of Nov. 30 as the Tenaya Lodge lobby transforms into a Yosemite Sierra holiday wonderland with entertainment and a towering, thirty foot Sierra-grown Christmas tree as its centerpiece. A visit and photos with Santa Claus caps off the weekend's celebrations!
The holiday cheer and decorations at Tenaya will shine so bright that even Santa will find them hard to resist!
Old Saint Nick will be a regular visitor to the lodge and kids and adults alike can team up to test their gingerbread house decorating skills or, through the Kids Dinner With Santa package for children 4 to 12, enjoy a special evening with Santa and his Tenaya-based 'elves'. After an activity, craft, and joy-filled two hours with the elves, children will dine and take a photograph with Santa – giving them a chance to put in that special request this Christmas! Space is limited; sign up early for the Dec. 21, 22 and 23 offering dates, packages start at just $269!
Mrs. Claus will join holiday revelers on Christmas Eve to share some of her cookie decorating secrets and a reading of "T'was the Night Before Christmas" for good girls and boys who will head off to bed with visions of candy cane turndown service and more surprises.
The Christmas Day Buffet held in the Grand Ballroom will keep the family fun going as will family movie nights planned throughout the week. Dining reservations are available now.
Did the excitement of Christmas rile up your little one? Take advantage of the popular Kids Spa, returning for another holiday season. Children will learn all about age-appropriate skin care and spa services while sampling some of the spa's favorite products. Adults, of course, will find the Ascent Spa at Tenaya an oasis throughout the holidays. A relaxing Swedish, detoxifying reflexology or more vigorous massage will warm chilled muscles while a custom facial will treat, moisturize and refresh tired skin.
Bid farewell to the old year and usher in 2014 with Tenaya's New Year's Eve Gala in the Grand Ballroom including live entertainment, party favors, gourmet dinner and midnight champagne toast and balloon drop. The lodge hosts a children's party for those with kids and both of these parties will have young and old dancing the night away until well after the clock strikes midnight. More good news: the package includes a late check out!
For more information, call toll-free, (888) 514-2167, or visit TenayaLodge.com/Holiday for holiday packages and TenayaLodge.com/HolidayEvents for holiday events and activities.
About Tenaya Lodge at Yosemite
Tenaya Lodge at Yosemite is an all-season resort framed by noble evergreen forest and a rich range of Sierra recreation. The lodge, set adjacent to Yosemite National Park's South Gate at an elevation of 5,288 feet, offers 302 rooms, suites and mountain cottage accommodations. Tenaya Lodge offers easy access to Yosemite's iconic attractions and many guests savor the alpine serenity of the new Ascent Spa at Tenaya Lodge. Resort dining options run the table from casual to candlelit at Sierra, Jackalope's, Timberloft and Embers restaurants. For more information, visit http://www.tenayalodge.com/.
About Delaware North Companies Parks & Resorts
Delaware North Companies Parks & Resorts is an industry leader providing Stewardship and Hospitality in Special PlacesSM with hotel, retail, food service, recreation and transportation operations at historic and scenic properties in North America and Australia. The company operates Kennedy Space Center Visitor Complex and in Yellowstone, Grand Canyon, Sequoia and Yosemite national parks, including The Ahwahnee and other Yosemite lodges; Tenaya Lodge at Yosemite & the Cottages at Tenaya Lodge; Harrison Hot Springs Resort & Spa in British Columbia; Niagara Falls State Park; The Lodge at Geneva-on-the-Lake in Ohio; Gideon Putnam Resort in Saratoga; Holiday Inn West Yellowstone, Gray Wolf Inn & Suites and Yellowstone Park Hotel. The company also owns and operates five luxury resorts in Australia: Lizard Island Resort, Heron Island Resort, Wilson Island Resort, Kings Canyon Resort and El Questro Homestead and Wilderness Park. To learn more about Delaware North Companies' hospitality management expertise, visit http://www.experiencednc.com.