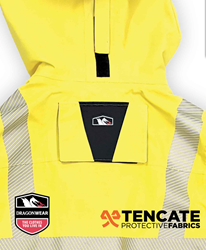 Anaheim, CA (PRWEB) October 18, 2016
TenCate Protective Fabrics and DragonWear® join forces to bring the newest FR innovation to the market.
Tecasafe® Typhoon3™ hits the market this fall as part of Forecast™ FR fabrics offering for inclement weather protection from TenCate.
Designed to provide fabrics that not only offer excellent FR protection in PPE, but that also provide protection from harsh weather conditions, FORECAST™ fabrics will help keep end users warm and dry when they need it most.
DragonWear® has partnered with TenCate Protective Fabrics to design the first commercially available garments using Tecasafe® Typhoon3™ for rainwear applications. DragonWear® has been providing PPE garments to the market for more than 20 years and offers some of the most creative garment designs available today. A family-owned and operated company with a strong emphasis on innovation, DragonWear® is up the challenge of changing the face of the PPE market and TenCate is glad to be a part of it. Both TenCate and DragonWear® will have garments featuring Tecasafe® Typhoon3™ on display in their respective booths.
By combining the FR fabric engineering skills of TenCate with the expertise and willingness of DragonWear® to blaze new trails, the market is about to see the best in innovative FR fabrics and garment design.
Tecasafe® Typhoon3™ is engineered to provide protection from the elements as well as thermal hazards that wearers may encounter on the job. A tri-laminate fabric designed for rainwear, Tecasafe® Typhoon3™ delivers the right protection for the right application. And DragonWear® will make sure that it feels and looks great in finished garments for end users.
"TenCate is very excited to be working with DragonWear on this project," said Luke Blakey, Senior Director of Sales and Marketing at TenCate. "They were more-than-willing to be the first in the market with this launch and we can hardly wait to see the new garment designs they will offer for Typhoon3."
Visit TenCate Protective Fabrics at booth #1529 and DragonWear® at booth #3220 at NSC 2016.