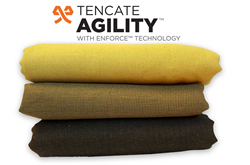 Nashville, TN (PRWEB) October 20, 2016
TenCate Protective Fabrics completes the collection of firefighter outer shell fabrics to the market that will rewrite the book on lightweight protection and comfort.
Kombat™ Flex is the proven twill outer shell made with DuPont™ Kevlar® and PBI fiber. Already in service, this outer shell fabric provides maximum protection without sacrificing comfort and ease of movement. Weighing in at 6.9 ounces per square yard (235 grams per square meter), Kombat™ Flex delivers the comfort firefighters want and the protection that they need.
Agility™ with ENFORCE™ Technology is a lightweight (6.6 ounces per square yard or 225 grams per square meter) but strong outer shell featuring DuPont™ Kevlar®. Premiering at Firehouse Expo, Agility™ delivers impressive strength before and after thermal exposure. Agility™ is the second outer shell to feature ENFORCE™ Technology. This proprietary technology allows for a lighter weight shell fabric without losing any of the performance characteristics of a heavier fabric. It's light but strong for the ease of wear and durability that get the job done.
Pioneer™ with ENFORCE™ Technology was the first outer shell with ENFORCE™ Technology and the ideal fabric for hard-working departments that face tough conditions but still need to be able to move quickly and perform well under pressure. Don't let its lightweight (6.6 ounces per square yard or 225 grams per square meter) feel fool you, this outer shell carries the trusted protection of DuPont™ Nomex® and will stand up under pressure. Pioneer™ delivers when firefighters need it most with outstanding durability and a distinctive look never before seen in the market.
"TenCate Protective Fabrics is the driving force for innovation in this market," said Luke Blakey, Senior Director of Sales and Marketing for TenCate. "We have no intention of letting go of that mantle and these new outer shells will prove it."
The new line of outer shell fabrics from TenCate Protective Fabrics will be on display at Firehouse Expo 2016 in Nashville, TN. Visit booth #756 for more information.