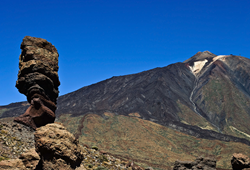 Britain was the island's biggest source of visitors in 2013 accounting for almost a third of those who arrived to enjoy Tenerife's vibrant resorts.
(PRWEB UK) 31 March 2014
Blessed with a 350-kilometre coastline that offers an abundance of family-friendly white-sand beaches and a climate that favours sun-worshippers in summer yet is warm enough for thoroughly enjoyable winter holidays, it's no wonder that Tenerife has long been a popular holiday destination with visitors from across Europe and the UK, securing a well-deserving 6th place on the Top 10 Holiday Rental Destinations in 2014 published by holiday rentals specialists AlphaHolidayLettings.com. In fact, according to the latest figures from the Tenerife Tourism Corporation (TTC), Britain was the island's biggest source of visitors in 2013 accounting for almost a third of those who arrived to enjoy Tenerife's vibrant resorts, outstanding natural beauty and traditional Canarian culture.
Whilst the southwest coast is famed for colourful and lively resorts such as Los Cristianos, Playa de Las Américas and Costa Adeje which offer plentiful rental accommodation and enough entertainment, activities, shops, bars, restaurants and clubs to delight even the most demanding fun-seeker, holidaymakers heading to other parts of the island can enjoy slightly less frenetic resorts set amid some of Tenerife's most spectacular scenery. In the northwest, the traditional town of Buenavista, for example, is renowned for its golf and is a short distance from the unspoilt Punta de Teno; a must for wildlife enthusiasts, divers and snorkelers. The popular resorts of Los Gigantes and Puerto de Santiago, meanwhile, offer the best of both worlds for holidaymakers seeking natural beauty and fun in the sun.
Holiday property rental specialists Alpha Holiday Lettings offer a wide range of superb accommodation including a large number of self-catering villas and apartments in Tenerife, with something to suit every taste and budget. Here are a few examples:
Aguamarina, Golf del Sur
With a laid-back 'villagey' feel, the tranquil resort of Golf del Sur on Tenerife's south coast boasts a quiet shingle beach perfect for snorkelling and diving, a championship golf course and a beautiful marina with a scenic promenade backed by a selection of inviting cafes and restaurants.
Property 14309: A luxury two-bedroomed penthouse in Golf del Sur (sleeps 4) with heated pool and ocean views, from £460 per week.
Playa de Las Américas
Lively 'Playa' is one of Tenerife's most popular holiday resorts and offers everything a couple or family might need for an enjoyable sunshine holiday, including the nearby Siam Park; Europe's largest waterpark, fabulous beaches and a host of shops, bars and restaurants which offer something to please everyone.
Property 11510: A spacious studio apartment in Playa de Las Américas (sleeps 3) in a complex with two pools (one heated) close to the beach and amenities, from £180 per week.
San Eugenio, Adeje
A quiet suburb of Playa de Las Américas, San Eugenio is the perfect destination for holidaymakers wishing to combine tranquillity, relaxation and stunning ocean views with the convenience of having the activities, entertainment, shops and restaurants of 'Playa' close at hand.
Property 13253: A private three-bedroomed villa in San Eugenio (sleeps 6) with large garden and pool a short distance from the beach and all local amenities, £1450 per week.
About Alpha Holiday Lettings
Alpha Holiday Lettings has rapidly established itself as one of the top holiday rentals portal sites in Europe and offers self-catering apartments, cottages and holiday villas in Spain, England, France, Portugal, Italy, Cyprus, Turkey and other destinations around the world. The majority of the properties listed on Alpha Holiday Lettings are privately owned and are booked directly with holiday home owners. For more information, visit http://www.alphaholidaylettings.com.