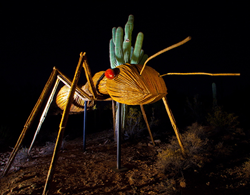 Tennessee welcomes visitors with a line-up of festivals.
Nashville, TN (PRWEB) April 24, 2014
Memorial Day honors the brave men and women who have sacrificed their lives for America's freedoms. It is also the weekend that jumpstarts summer travel season. Tennessee welcomes visitors with a line-up of festivals ranging from Dollywood's Barbeque & Bluegrass Festival, to Memphis in May International Festival, to the Americana Experience. See the short list of exciting Tennessee adventures below. For even more events happening throughout the summer, visit tnvacation.com/calendar.
EAST
Tantalize all the senses at Dollywood Barbeque & Bluegrass Festival May 24-June 8 at Dollywood. Hear Bluegrass performers like The Time Jumpers, Moore Brothers Band, Breaking Glass, The Lackey Family, and Riders in the Sky. More than 50,000 lbs. of barbecue smothered in a variety of sauces will be served up. Roasted pork or chicken, follow the scent to Market Square where some of the best grilling and barbecuing happen.
Be a part of historic fun this Memorial Weekend at the Vintage Base Ball match between the Highland Rim Distillers and the Knoxville Holstons noon May 31 at the Ramsey House Plantation. Spread out a blanket and witness how America's Favorite Pastime was played in the late 1800's. The players will wear full vintage uniforms and play by the original rules which include no formal field and no gloves. The event is free and open to the public.
Hear the chugging of trains as they roll into Oneida during the BSF Vintage Train Fest May 31-June 1 at Oneida City Park. Live entertainment provided by Great Day In The Morning bluegrass band and the Highlander Bluegrass Band, vendors, arts and crafts, food, and a vintage car cruise-in will be part of the festivities. The train is scheduled to arrive between noon and 12:30 p.m. each day.
MIDDLE
David Rogers' Big Bugs are taking over May 23-Aug. 31 at Cheekwood Botanical Garden and Museum of Art. This enchanting outdoor art installation features 10 gigantic insect sculptures made from wood, twigs, raw branches, twine, bark and other natural materials. A praying mantis, ants, and dragonfly are part of the exhibit. Participate in the "Bug Hunt," an adventure brochure which gives clues to visitors as they discover surprises hiding throughout the gardens.
Kick off a summer of music with the Jammin' at Hippie Jack's Spring Music Festival May 22-25 at Hippie Jack's Family Farm in Crawford. With performers like The Delta Saints, The New Familiars, Josh Farrow and Blue Mother Tupelo, the show is gearing up to be a must-see. Grab a tent and stay in the middle of all the action during the three-day event. Synergy Mind & Body will also lead mind and body wellness classes throughout the festival. Tickets are $25 for a festival day pass and $70 for a weekend pass.
More than 50 acts will perform for 10 music-filled days during the Americana Experience May 22-June 1 throughout the Franklin area. Puckett's Grocery, the Lawnchair Theatre, the Franklin Theatre, Music City Roots, The Factory, Grays on Main and Kimbro's are just some of the venues the music of Patty Griffin, John Hiatt, Brandy Clark, Parker Millsap, The Jake Leg Stompers, The Blues Explosion and others can be heard. The entire community is invited for an unplugged, gospel sing-a-long near a creek in Leiper's Fork.
WEST
See all kinds of birds from swallows to falcons at the Hatchie BirdFest May 30-June 1 at the Hatchie National Wildlife Refuge. With more than 200 birds, an outdoor adventure awaits. Special speakers, demonstrations, hikes and vendors will also be scheduled for this event that's perfect for beginners to expert birders.
For a look at well-preserved Civil War earthworks on the Chickasaw Bluffs, attend the Memorial Day Celebration held at Fort Pillow State Historic Park. The park, located on 1,650 acres with 20 miles of trails which lead to the restored fortifications, inner forts and more, has many artifacts and buildings dating back to 1861. The museum is home to cannon balls, muskets and bullets.
May is a big month in Memphis as the Memphis in May International Festival celebrations run through May 24. The city's largest events happen during this festive time. The World Championship Barbecue Cooking Contest will take place at Tom Lee Park. It welcomes hundreds of teams who compete for more than $110,000 in prizes and bragging rights. The festivities wrap up with the AutoZone Sunset Symphony that features the Memphis Symphony Orchestra. Music, fireworks and an airshow make it "a perfect way to end a perfect May."
Explore more at tnvacation.com and join other Tennessee travelers by following "TNVacation" on Facebook, Twitter, Pinterest, Instagram and YouTube.