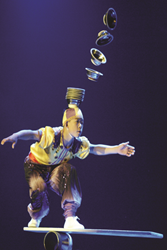 The frost on the ground isn't here yet, but that doesn't stop Tennessee from planning a spectacular Spring 2015.
Nashville, Tenn. (PRWEB) December 15, 2014
The frost on the ground isn't here yet, but that doesn't stop Tennessee from planning Spring 2015, filled with family-friendly festivals, celebrations, and historic commemorations.
EAST
More than 200 performers from around the globe celebrate music, art, food, and dance at Dollywood's Festival of Nations March 21-April 20 in Pigeon Forge. Take a culinary world trip with a World Passport to Food offering delicacies from Mexico to Germany to China. New performances include Moscow Nights, Strings of Fire, and La Danza de Colombia. More information will be announced at a later date.
All eyes will be on Knoxville during the 2015 Tennessee Civil War Sesquicentennial Signature Event April 30-May 1 at various locations and historic sites. The American Bus Association's Top 100 Selection Committee named the Sesquicentennial, Blue & Gray Reunion and Jubilee as one of the best events to experience in 2015. Caroline E. Janney, professor, Ph.D of University of Virginia, historian and author, will be the keynote speaker for the event.
MIDDLE
Cultivate a green thumb during the Nashville Lawn & Garden Show March 5-8, 2015 at the Tennessee State Fairgrounds. Browse an acre of live gardens, see the top brands for every gardening need, enjoy free lectures and demonstrations, and be sure to check out the floral design gallery for inspiration as more than 20 award-winning floral designers share creativity and insights.
The award-winning Rivers & Spires Festival will take place April 16-18, 2015 in downtown Clarksville. Live music, entertainment, kids' activities and food are highlights of the festival. Enjoy arm wrestling competitions, singing competitions, a Civitan $10,000 Scavenger Hunt, children's parade, car shows, art from local and regional artists, and a Festival of Nations featuring experiences from Japan, Panama, the Phillipines, Germany, and Puerto Rico.
WEST
Hungry? Head to the World's Biggest Fish Fry where more than 12,500 pounds of catfish are fried for the annual event April 18-25, 2015 in Paris, Tenn. Fish dinners, shopping, five beauty pageants, the Small Fry Parade, a carnival, and the Grand Parade draw bigger crowds each year.
Continue to follow your nose to Memphis in May throughout the month of May in downtown Memphis. The festival kicks off with the Beale Street Music Festival May 1-3 at Tom Lee Park. Past performers include Kid Rock, Foster the People, Avenged Sevenfold, and Lucky Peterson. The International Festival will salute Poland and celebrate its customs, culture, cuisine, and more May 4-9. Get a barbecue fix at the World Championship Barbecue Cooking Contest where teams compete for more than $110,000 in prizes May 14-16 at Tom Lee Park. The festival culminates with the AutoZone Sunset Symphony May 23.
Below is just a sampling of the events happening statewide. For a complete list of Tennessee events, visit http://www.tnvacation.com/calendar.
MARCH
March 14
Erin – Wearin' of the Green Irish Day Celebration -- Enjoy a parade, food, entertainment and crafts at the largest Irish Day celebration and parade in this area. 931-289-5100, houstoncochamber.com
APRIL
Month-long
Knoxville – Dogwood Arts Festival – Miles of trails feature some of the most spectacular dogwood trees of all kinds. 865-637-4561, dogwoodarts.com
Nashville – Awesome April – A musical tribute to the city that promises a major event each weekend. 800-657-6910, visitmusiccity.com
April 4
Memphis – Martin Luther King Jr. Commemoration – The National Civil Rights Museum offers a special program to commemorate the late Civil Rights leader. 901-521-9699, civilrightsmuseum.org
April 6-12
Columbia – Mule Day – One of the world's biggest mule celebrations. Events include mule sale, mule pulling, mule shows, pancake breakfast, flea market and parade. 931-381-9557, muleday.com
April 9-11
Jackson – Rock-A-Billy Festival – The world's largest gathering of Rock-A-Billy artists and musicians, featuring the pioneers of Rock-A-Billy music as well as new artists. 731-427-6262, rockabillyhall.org
April 10-12
Knoxville – Rhythm N' Blooms Festival – The American roots music festival features performances from world-class bluegrass, indie, and jazz artists as well as storied songwriters. The event is part of the month-long Dogwood Arts Festival. 865-637-4561, rhythmnbloomsfest.com
April 16-25
Nashville – Nashville Film Festival – With genres from drama to comedy to foreign documentaries, this festival has something for everyone. 615-742-2500, nashvillefilmfestival.org
April 25-26
South Pittsburg – National Cornbread Festival – Enjoy the National Cornbread Cook-Off, the art and shows. 423-837-0022, nationalcornbread.com
MAY
May 3-9
Humboldt – West Tennessee Strawberry Festival – In its 75th year, this festival includes parades, live entertainment, barbecue cook-off, concerts, fireworks and more. 731-784-1842, wtsf.org
May 9
Nashville – Running of the Iroquois Steeplechase – This is the nations' oldest continuously run, weight-for-age steeplechase. 866-207-2391, iroquoissteeplechase.org
May 14-16
Knoxville – International Biscuit Festival – Named one of the country's top 10 food festivals, this popular event will rise again in downtown Knoxville at Market Square. Guests enjoy food, fun, music and more throughout the three days of the Festival. biscuitfest.com
May 5-Oct. 31
Jonesborough – Storytelling Live! – Storytellers from across the United States will share stories and entertain guests. 800-952-8392, storytellingcenter.net
May 14-16
Adamsville – Buford Pusser Festival – This annual festival honors the famous "Walking Tall" sheriff and features good music, food and family fun. 731-632-4080, bufordpussermuseum.com
May 15-16
Sevierville – Sevierville's Bloomin' BBQ & Bluegrass – This event features the Tennessee State Championship Barbeque Cook-Off, bluegrass concerts from rising stars and bluegrass legends, kids games, great food and authentic mountain crafts. visitsevierville.com/vsevents.aspx
May 16-17
Greeneville – Iris Festival – A juried arts/crafts festival plus food, entertainment and more surrounded by the history of President Andrew Johnson. The Annual Woodcarving Show is held each year in conjunction with the festival.
May 17
Chattanooga – Sunbelt Bakery IRONMAN 70.3 Chattanooga – The race will lead athletes through a 1.2-mile swim, 56-mile bike and 13.1-mile run on nearly the same course as IRONMAN Chattanooga. ironman.com/chattanooga70.3
May 29-31
Memphis – Memphis Italian Festival – This community celebration demonstrates the values of family, faith and fellowship in the Italian-American tradition. Music, food, events, games, arts and crafts and more. 901-219-1674, memphisitalianfestival.com
# # #
Explore more at tnvacation.com and join other Tennessee travelers by following "TNVacation" on Facebook, Twitter, Pinterest, Instagram and YouTube.