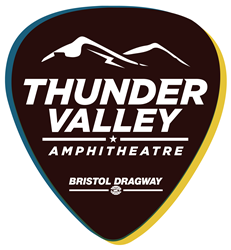 "We are thrilled to have such a legendary band like ALABAMA to headline our first concert at the new Thunder Valley Amphitheatre presented by Ballad Health. We are blessed to be able to bring one of the greatest groups in country music history to the 'Birthplace of Country Music'." - Jerry Caldwell
BRISTOL, Tenn. (PRWEB) May 07, 2019
A new and innovative concert venue designed to bring some of music's biggest names to the Tri-Cities region is coming to tradition-rich Bristol Dragway.
The legendary dragstrip, which has showcased the world's fastest race cars and iconic drag racers, will now add a new chapter to its legacy when it moonlights as a premier outdoor concert venue known as the Thunder Valley Amphitheatre presented by Ballad Health.
"Legendary Bristol Dragway has long been known for hosting a wide array of events that each bring their own unique audience and flair to the facility," said Jerry Caldwell, executive vice president and general manager of Bristol Motor Speedway & Dragway. "The Thunder Valley Amphitheatre presented by Ballad Health allows us to create a new and one-of-a-kind experience for both guests and artists alike with one of the most beautiful and unique settings in the country. We're looking forward to welcoming some great performers to the region and showing them true Tri-Cities hospitality."
Iconic country band ALABAMA with special guest John Michael Montgomery will be the first to christen the new premier outdoor concert venue on Saturday night, July 27.
A country music powerhouse, ALABAMA is comprised of lead guitar/fiddle player/vocalist Jeff Cook, bass guitarist/vocalist Teddy Gentry and lead singer/rhythm guitarist Randy Owen. The band enjoyed massive crossover appeal during a five decade run with their mix of country, rock, pop and gospel sounds, and is widely recognized as the most successful country music band of all time.
The two-time GRAMMY® Award-winning group, which was inducted into the Country Music Hall of Fame in 2005, boasts 43 No. 1 singles, including an amazing 21 No. 1s in a row, 21 Gold, Platinum and Multi-Platinum albums, and a host of awards from the Academy of Country Music, Billboard Magazine and Country Music Association.
"We are thrilled to have such a legendary band like ALABAMA to headline our first concert at the new Thunder Valley Amphitheatre presented by Ballad Health," Caldwell said. "ALABAMA's music and style appeals to so many and they put on terrific shows every time they perform. We are blessed to be able to bring one of the greatest groups in country music history to the 'Birthplace of Country Music,' and give our guests a night of entertainment that they will remember forever."
When ALABAMA takes the stage at the Thunder Valley Amphitheatre as part of its "50th Anniversary Tour," fans are likely to enjoy a set list full of No. 1 hits, including "Feels So Right," "Mountain Music," "Dixieland Delight," "Born Country," "Tennessee River," "High Cotton," "40-Hour Week," and "Song of the South."
"We never thought playing for tips at The Bowery in Myrtle Beach, South Carolina, that 50 years later we would still be playing arenas, stadiums and festivals," says ALABAMA frontman Randy Owen. "Teddy, Jeff and I are humbled at the amount of fans that are coming out to see us. We are finding out that we are playing to three generations of fans who have followed us and our music from day one. The fans are the ones responsible for our continued success on the road and we love them."
The ALABAMA concert begins at 7:30 p.m. when special guest John Michael Montgomery takes the stage. With seven No. 1 hits to his credit, Montgomery is best known for classics such as "Be My Baby Tonight," "I Swear," "Letters from Home," "Sold (The Grundy County Auction incident)" and "I Can Love You Like That."
Tickets range from $29-$89 with a VIP suite experience available at $125. Tickets will go on sale to the general public starting on Wednesday, May 8 at 10 a.m. (ET). Tickets and parking passes ($10 or $20) can be purchased at Ticketmaster or by calling the Bristol Motor Speedway & Dragway ticket office at 866-415-4158.
The concert's official promotional partners include WXBQ 96.9 FM 24 Carrot Country and WCYB TV 5. Parking lots open at 4:30 p.m. and spectator gates will open at 6 p.m. For more information please visit ThunderValleyMusic.com.
A portion of the proceeds from the ALABAMA concert at Thunder Valley Amphitheatre presented by Ballad Health will be donated to Niswonger Children's Hospital.
"Ballad Health is honored to have this opportunity to partner with Bristol Motor Speedway & Dragway to bring this exciting new venue to our region," said Alan Levine, executive chairman and chief executive officer of Ballad Health. "There are very few things more famous and more closely identified with this region than Bristol Motor Speedway, and Ballad Health is proud to serve the speedway and dragway, its fans and the thousands of people who visit and experience Northeast Tennessee and Southwest Virginia because of it. We're a growing area, and we have a great future ahead of us – one Ballad Health is proud to support alongside the speedway and dragway."
Tucked between two mountains, the Thunder Valley Amphitheatre presented by Ballad Health will allow both guests and performers to revel under the stars while enjoying one of the most picturesque panoramas in music.
Concerts at the Thunder Valley Amphitheatre presented by Ballad Health will join a long list of unique entertainment options this year at Bristol Dragway. In addition to playing host to the NHRA Thunder Valley Nationals on Father's Day weekend, June 14-16, Thunder Valley is home to the Bristol Chevy Show, Beef 'O' Brady's Thunder Valley Mayhem, weekly Street Fights and DER Bracket Racing Series as well as the NHRA Junior Drag Racing League Eastern Conference Finals, among other events.
NOTE FOR EDITOR: FOR HI-RES IMAGES ON BOTH THE THUNDER VALLEY AMPHITHEATRE PRESENTED BY BALLAD HEALTH AND THE JULY 27 ALABAMA CONCERT, PLEASE CLICK HERE