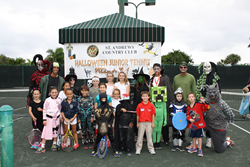 The Aaron Krickstein Junior Tennis Program is designed to grow kids enthusiasm and interest in tennis, said Krickstein.
Boca Raton, FL (PRWEB) November 14, 2014
Aaron Krickstein, formerly ranked #6 in the world and nine-time ATP tour titlist officially opened the "Aaron Krickstein Junior Tennis Program" at St. Andrews Country Club for children under 14. This unique program includes an active schedule of private and group lessons, clinics, and themed pizza parties providing junior players with the opportunity to learn from a world renowned former ATP Tour player, play exciting games, and enjoy themselves in a fun and relaxed atmosphere surrounded by a state-of-the-art tennis center.
"We have seen a significant increase in attendance at all junior tennis events and have received positive member feedback, leading us to the natural decision to officially brand the program. It is important for our tennis program and the club that we increase children's enthusiasm and interest in the sport. With each clinic and themed event, we have the pleasure of improving each child's skills and allow them to play, compete and connect with each other," said Krickstein who serves as Director of Tennis at St. Andrews CC along with his staff of USPTA certified professionals, all who take a personalized approach to teaching junior players basic skills and techniques.
Ed Rice, President, St. Andrews CC Board of Governors adds, "As a club we are excited to fully embrace and support the Aaron Krickstein Junior Tennis Program. As the former Tennis Chair, working closely with Aaron on this initiative and seeing it come to fruition is part of the strategic direction of the club to welcome and attract members of all ages."
St. Andrews offers its members, children and grandchildren exceptional amenities with fifteen perfectly conditioned clay courts, five of which are lighted, including a center court with grandstand seating, as well as a new and unique European red clay court, similar to those seen at the French Open. The Tennis Pro Shop offers state-of-the-art equipment and the most fashion forward tennis apparel assuring each is player completely prepared.
"The Junior Tennis Program at St. Andrews sets a benchmark by offering our members' children and grandchildren a unique advantage to learn exceptional tennis skills from Aaron. Our superior facilities offer the highest quality of service to insure that children have countless opportunities to improve their tennis skills." Said Craig D. Martin, C.C.M. Chief Operating Officer/General Manager.
About St. Andrews Country Club
St. Andrews Country Club of Boca Raton, resident-only Platinum Club of America and Distinguished Emerald Club of the World ranked in the Top Ten of America's Healthiest Club's is internationally recognized for magnificent estate residences and recently completed $17.5 million in renovations. The Club features superior amenities, two 18-hole championship golf courses, including an Arnold Palmer Signature Design®. The club offers a comprehensive Golf Performance Center with indoor hitting bay, private practice area, V1 Digital Coaching System and FlightScope Launch Monitor® technologies, and a Callaway Golf® branded club fitting area. The Club features a full service spa and fitness center and a 125,000 square foot completely remodeled Clubhouse with four unique restaurants. A brand new Recreation & Aquatic Center features three pools, poolside dining, Splash Club and state-of-the-art playground equipment and air-conditioned game room. St. Andrews has played host to numerous PGA golf exhibitions led by touring pros such as Phil Mickelson, Arnold Palmer, John Daly and Rocco Mediate, and is the home course to LPGA Touring Professional and resident Morgan Pressel. Please visit http://www.standrewscc.com or follow us on Facebook, Twitter, LinkedIn, Instagram, YouTube, Pinterest and Google+.