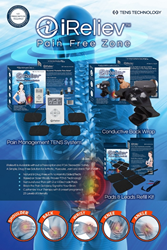 If you suffer from back, muscle or joint pain look into the benefits of purchasing an over the counter tens unit device.
Lewes, DE (PRWEB) September 22, 2014
Back pain is a daily reality for a very large number of people. The idea of instant powerful pain relief without taking a dangerous drug may sound far-fetched at first, but the latest breakthroughs in technology have made this very possible. Enter on-line retailer Variety4Kicks, and the product they have recently begun offering the iReliev Tens Unit electronic back massager. This premium quality, but affordable priced device is providing real back pain relief each and every day, in a way that's both safe and therapeutic. Customers have greeted the iReliev pain management system with enthusiasm.
"The many Tens Unit reviews don't lie," commented a spokesperson from Variety4Kicks. "This is a device that can really add to a person's quality of life. Imagine back, shoulder, knee or elbow pain, even arthritis pain being able to be treated at home in a way that offers instant but safe relief. Our Tens machines offers all of this and much more at a affordable price. It really has to be tried to understand just what a breakthrough technology is. It can change the quality of life for numerous pain sufferers"
According to the company, the iReliev bundle comes complete with a highly portable, small, but ultra-effective Tens Device; special iRelieve pads; and a backup refill kit consisting of a pair of lead cable wires and four sets of reusable pads for future use. Clearly, this makes the bundle one of the most attractive and affordable Tens Unit for sale on the market today.
The iReliev is completely customizable to meet individual user's needs. A press of the button can change the program in a second. All in all eight program modes with 25 levels of intensity are offered, all addressing muscle and joint pain differently. It is a dual channel device, which means different levels of therapy can be applied to different parts of the body. A special safety timer sets the unit to run for anywhere between five to sixty minutes of electronic pain relief massage before automatically turning off.
Every bundle sold is happily backed by the company with a 12 month money back guarantee, offering people suffering from back and other muscle or joint pain a way to try the device and see if it meets their needs risk free. Very few Tens Unit for sale, offer this type of guarantee, according to Variety4Kicks.
Early feedback from customers of the product have offered complete endorsements.
John L., recently said in a five star Tens Unit review, "This is an amazing product for pain relief, especially at this price! TENS therapy at the Dr's office has given me great relief from muscle aches & pains. This compact, portable unit would be great for home therapy. No more Dr's visits for a simple muscle strain! The price is awesome... it will pay for itself in no time! Love it!"
For more information on this amazing tens unit device be sure to visit
http://www.amazon.com/gp/product/B00MERK3TU