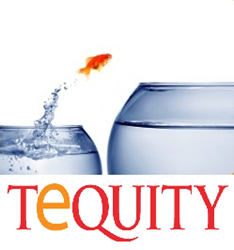 Our experience and specialized skills drives higher valuations, cleaner deal structures and improved post-transaction success.
Markham, ON (PRWEB) May 20, 2014
Tequity Inc., M&A advisor to lower middle-market software and technology companies, is honoured to announce our nomination for Technology Enabler of the Year by TechConnex, the Industry-directed hub for Technology Companies in the Greater Toronto Area.
This award recognizes the company or organization characterized as contributing in the role of tech enabler or professional advisor or services that has demonstrated business leadership innovation and excellence in a commitment to the growth and expansion of companies within the knowledge-based sector in the Greater Toronto Region.
Consideration in this category requires increasing levels of community involvement and thought leadership, and demonstration of sound business relationships in the role as trusted advisor to tech business leaders. A minimum of 5 years in business is required for judges to investigate the organizations' sustained commitment to the sector and business track record.
About Tequity
Tequity Inc. provides merger and acquisition advisory services to the shareholders of North American Software, IT and Technology companies. We help our clients to exit or sell up through a sale to strategic buyers. We make large firm advisory services accessible to lower middle-market software and technology companies, and using our experience and specialized skills, we uncover hidden value and articulate it to strategic buyers who can leverage these to greater success.